This story appeared previously in Golf Connoisseur.
The true gourmand measures his day as a collection of minutes and hours filled with activities meant to pass the time between meals.  No place is this more true than at the Kapalua Resort on the Hawaiian island of Maui in summer.  Although resort guests can indulge in the usual frivolity of playing three top-notch oceanside golf venues, swimming with all manner of tropical fish in the warm Pacific, getting scrubbed, pounded, kneaded and prettied in world-class spas, etc., these are mere truffles, er, I mean trifles.

Because every summer Maui plays host to the Kapalua Wine and Food Festival.  Celebrating its 32nd anniversary in 2013, this renowned, belt-loosening event draws chefs from America's finest eateries and pairs them with top-shelf vintners from the world's best wine regions (Bordeaux, Florence, Australia's Barossa Valley).  It also attracts dedicated and hungry attendees who aren't content with the usual superlatives (of service, location, accommodations, etc.) proffered by this beloved property; visitors to the Kapalua Wine and Food Festival also insist upon being fed the freshest and most creative of cuisine (every few hours) and toasted (with an endless chiming of leaded stemware) by brigades of culinary wizards and vineyard geniuses capable of having driven Julia Child into a high-pitched, cleaver-wielding fit of jealousy.
The only thing you need fear during the festival is working up enough of an appetite following the Bev Gannon cooking demonstration (duck spring rolls with mango dipping sauce, shiitake crusted fresh catch with wasabi buerre blanc over Chinese sausage fried rice, and banana lumpia) at noon, followed by a quick stopover at the afternoon vertical wine-tasting (featuring 13 all-star cabernets from producers such as Jordan, Lokoya, and Penfolds), to still be appropriately ravenous (and sober) enough to enjoy the Grand Tasting later in the day.  There, at dusk, more than 150 participating wineries and who even knows how many master chefs will tempt you from behind groaning tables piled with delicious, unpronounceable food and an array of fine vintages all set beneath swaying palms on the sloping, manicured lawn at the very edge where this volcanic island tilts into the sea.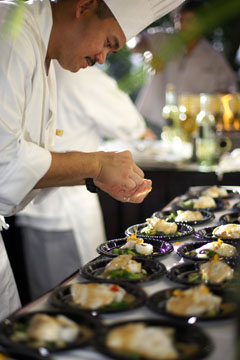 And that's just on Saturday.  The four-day event includes demonstrations; interactive festivities such as cheese tastings led by panels of jovial, opinionated experts; lectures; a golf tournament; and opportunities to mingle with Master sommeliers (you might ask them just why they wear that giant key around their necks), winemakers, chefs, other "foodies," and more.  Each evening, waddle over to a gala event such as the Grand Tasting, an intimate winemaker's dinner held at one of the island's best restaurants, and the mongo finale: the Kapalua Seafood Festival.  Past favorites here—prepared by Hawaii's top chefs— include an achingly tender seared onaga with oxtail ragout and crab relish; the always-festive ahi tartar parfait; Roy's Korean oyster ceviche; and a knee-weakening and fun-to-say shabu shabu with chili daikon ponzu.
Hungry yet?  The next Kapalua Wine and Food Festival will take place June 7-9, 2013.  Accommodations packages (including festival passes) are available at the Ritz-Carlton and Kapalua Bay Hotels and The Kapalua Villas.  For more information visit kapaluawineandfoodfestival.com.