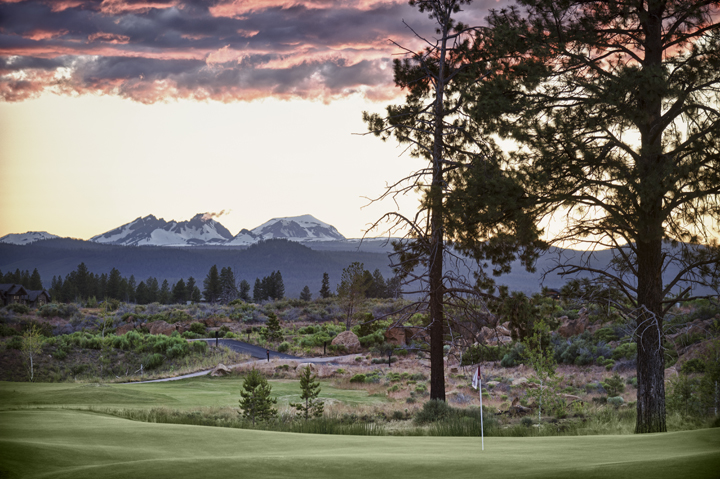 Golf being a Scottish tradition, most courses can claim some connection to the game's roots.  In Central Oregon, this is most true at Tetherow Golf Club, designed by renowned Scottish architect David McLay Kidd.  Kidd is responsible for the original course at Bandon Dunes, as well as the Castle Course in St. Andrews, but he felt such an affinity with Central Oregon that he moved his home and office here.
Kidd's Tetherow Golf Club features wall-to-wall fescue grass—the same used on most Scottish links—to lend the golfing surface a firm, fast feel that encourages shots played along the ground.  Notably, it's the first high-desert course to ever successfully import the coastal grass.  Pot bunkers, ragged full sized bunkers, knobs, and knolls must all be negotiated on the way to large, contoured greens that call for creative shot making. Wide fairways and elevated tees give you the freedom to swing away. The natural feel of the playing experience fits hand in golf glove with Tetherow's selection as the first Audubon International Certified Signature Sanctuary Course in Oregon, and one of only 50 worldwide.  Tetherow has already won scads of accolades from the golfing press.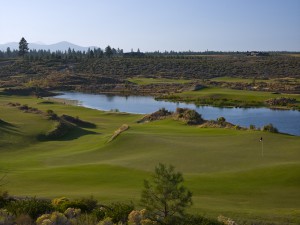 When I interviewed Kidd recently I asked him what takes longer, an American learning to play golf along the ground or a Scotsman learning to play through the air.  "A no-brainer," Kidd said.  "It's much easier to flop a wedge from Bluegrass or Bermuda than to play a delicate pitch off a tight lie and read the bounce and subsequent roll to get a ball close enough to make a putt!"
And here's a Scottish theme that repeats itself at Tetherow: don't aim at the pins, or even the centers of the greens.  For despite its location amid snow-capped mountains in central Oregon, this is a links course in spirit and pedigree, and should be played using the territory to your advantage.  Talking about links golf David Kidd says, "You are playing on a hard surface and on the best of links courses, rough doesn't really exist, so you can still find the ball and get out of it. It gives the average golfer far more latitude to have a good time and shoot 100 with the same ball. When doing a links course, in my head I think all bets are off.  I can do whatever I want. As a golfer you're just going to have to put up with it. But because it's links golf, for some strange reason almost every golfer accepts that. Why is that? Haven't figured that one out yet."
The Golf Road Warriors played Tetherow in the company of owner Chris Van der Velde, who played on the European Tour for more than a dozen years and hasn't lost his passion– or talent– for the game despite two knee replacements.  He poured in a nice collection of birdie putts as he toured us around the course and helped us decipher the golf puzzles Kidd has assembled.  And it's worth noting that first-timers cannot possibly figure out where to hit many of the shots here, which is why forecaddies– or Van der Velde– are required.
We played off the back nine, and the first tee shot defined the experience awaiting us.  Although the hole sets up nicely for a draw over native-covered fairway moundings, I flared one off to the right.  It was probably the worst of our four tee shots yet I found myself positioned better than anyone else, with a short running pitch up to the green.  The next hole, a 466-yard par four from the back tees offered the first of many visually intimidating shots to a somewhat misanthropic green.  It has no bunkers to speak of, but certainly doesn't need any.
Van der Velde and Kidd have worked hard together over the years since opening to soften the course a bit by removing unnecessary fairway moundings, giving over more of the native areas to fairway, and hacking down long grasses that bearded many of the bunkers.  The results are an eminently fun, playable, and unusual golf course in a spectacular setting.
On number thirteen my luck from the opening hole came full circle as I cracked a short but center drive and found myself stymied by the one tree that could possible come into play.  This par-five "quarry" hole climbs, dips, turns, and turns again, all en route to a tough angled green with water to the left.
You will make an error, either in tactics or execution while playing Tetherow and that is part of the fun.  It's like one of those television action game shows where you have to run a gauntlet of features trying to knock you off a ledge into water.
Number seventeen at Tetherow is the hole you've seen in a hundred golf magazine photos– and it is everything a golf hole can be: pure fun, and also fair and gorgeous.  The hole routes through a pumice quarry to the smallest green Kidd ever built– about half the size of most of the other greens here.  His intention was for players to overclub and knock tee shots into the backboard behind the cupping areas so that the ball will trickle back toward the pin.  Given its physical and psychological difficulty, Tetherow makes for a great match play course, which is also how it was meant to be played.  So forget about keeping score.  Once you toss the pencil this will be about the most fun you ever have while possibly not breaking 100.  Eighteen terrific holes await your exploration and offer the chance to utter the word "bollocks" if you fail to make par.
In 2014 look for the opening of a 50-room hotel with wings on both sides of the clubhouse.