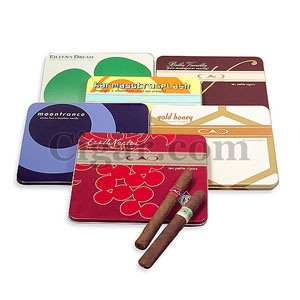 Since I last smoked a Swisher Sweet cherry flavored cigar at age twelve in the basement of my high school stoner friend with the pool table, it would not have occurred to me to buy a flavored– or should I say "flavoured," as the CAO marketing geniuses have thought to describe it– cigar.  I'd sooner wear a Carmen Miranda hat to an Irish pub.
But accidents happen, and it was dark in Portland's Greater Trump's cigar bar, just off Hawthorne Boulevard, and my shot of Bushmill's had just arrived and Brad was searching for the cribbage board and though I usually bring my own cigars, I hadn't necessarily expected to find myself in a cigar bar drinking whiskey and playing cribbage (okay, I'm lying– actually I forgot to bring a smoke with me to golf earlier in the day and was too lazy to go home to get one).  At any rate, Don and I walked up to the humidor on the bar and chose small and affordable smokes and the Cao Moontrance with its wrap of cedar and blue paper looked so appealing through the glass.  And a petit corona seemed just right for the occasion.  The boys chose Macanudo minis and I scoffed at any cigar with the word "mini" in it and  succumbed to the rich color of the Cameroon wrapper of the Moontrance.
Okay, so I should have known by the name.  And even though I like Van Morrison, any cigar that sounds like one of his songs should have set off "smoke alarms".  Or as soon as I lipped the cut end and tasted fruit and vanilla and coconut and longed to go to the Ben and Jerry's across the street.  So yes, okay, I should've known something was up.
I'm almost sorry to admit that past the initial flavors, the cigar smoked nicely– even if it should have had a tiny drink umbrella stuck in the lit end.
Perhaps my thrashing in cribbage– Don's well-plaid opening salvos earning him the "Peggy" Fleming moniker (for the part of the game known as "pegging"), and Brad, being Brad, drawing cut cards that carried him from 0-60 points per hand in nano-seconds– was somehow related to the Moontrance.  At least I beat Brad at golf earlier in the day– and by "beat" I mean that even though he scored about ten strokes less than me, and we're close to even in handicap, I still managed to pinch him for $30 due to well-timed presses and some melting down by my opponent on a couple of short putts.
So although my mojo was positive going into the evening, and additionally powered by what seemed like a tractor trailer tire rim full of terrific fish at Mio Sushi down the street, I suspect it was the girlie cigar that led to my thrashing.