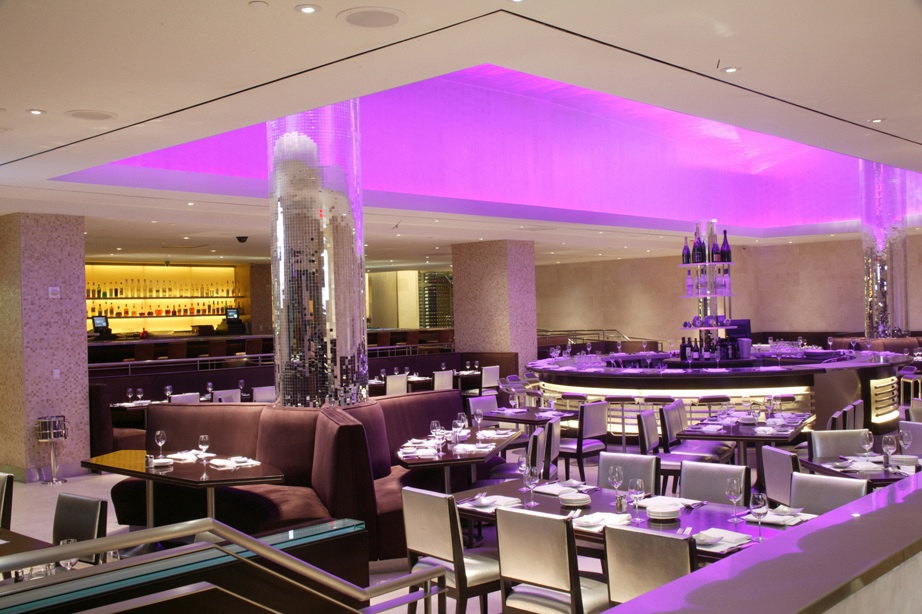 It's tough to get too excited about a steak restaurant in the basement of a hotel that's not even on the strip in Las Vegas. And while the hostesses at Nine Steakhouse at the Palms are themselves worth the trip, the glitzy eighties look– purple backlighting, black tables, and sparkly chrome tiles– worry you that Madonna or Prince or some other even more frightening eighties icon (for example, that crazy girlfriend you had) might come strolling through the door. But once the menu arrives N9NE is ALL about the food.
Our menus came via the handsome hands of Troy Holland, a cross between George Clooney and Rodney Dangerfield (Clooney supplied the looks, Dangerfield the accent) and possibly the best server I've had in a decade– he sussed out our personalities and preferences for chatter vs. service and played enchanting and sincere host, regaling with a story and a few personal anecdotes when there was a break in our table conversation, hovering at the edges of consciousness when we were engaged in eating or talking so that we knew he was there but also that he was wary of intruding.  Like the best waiters he made you feel as if you were the only person in the room.  He'd be an equally good dinner partner as waiter– particularly if you were a woman of, say, 18-120 years old.  And no I won't give you his phone number.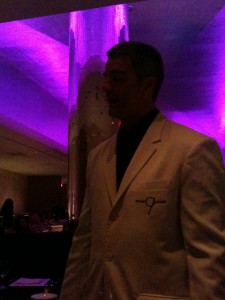 Although we ate from a prix fixe menu at N9NE, the regular menu lists seven steaks– cooked at 1200 degrees Fahrenheit and served with five sauces from Bearnaise to barbecue– and all the other usual suspects such as a chicken offering and a fish offering, but these were also just a little more interesting than first glance would suggest.  The chicken featured a red and green jalapeno rosemary jus.  The tuna steak was seared rare with shiitake mushrooms, haricot vert, Dijon, shallots, garlic confit, and red wine sauce.  Executive Chef Barry S. Dakake has daringly renovated a traditional menu so that– to use a fittingly Vegasesque analogy–  it's like a woman wearing creased khaki slacks with a studded leather g-string underneath.  And certain body jewelry I will not even mention.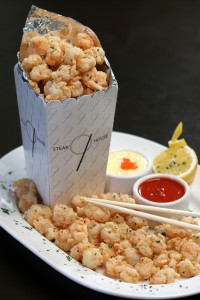 We began our meal with an opening act of  rock shrimp (which lived up to their name because they rocked!) piled in an elegant tower with two  moats of  sauces– hot and creamy– for dipping.  The stuffed mushrooms– a throwback groaner on most menus– were perky and over-filled with the very best and meatiest parts of the crab that you usually have to fight with your spouse over, even at the risk of seeming ungenerous.  This was followed by the unfortunately-named Garbage Salad, a pileup of ingredients such as fried onions, shrimp, really good tomatoes, hearts of palm, salami, and more that harmonized like a choir of angels (except for the burping), and which I could have eaten another two pails of.
Steaks– the real point of coming here– arrive escorted by any of eleven side dishes that while also seemingly mild-mannered, are taken into the phone booth by Chef Dakake until they emerge super– we had the mac and cheese, comprised of complex chambered nautili of pasta in cheesy drapery; creamed corn with a bit of snap and just a tinge of sunny sweetness; roasted mushrooms with caramelized onions; and my favored creamed spinach, which was the only item put before us that wasn't ovation worthy.  The filet that I aggressively protected was itself sublime– buttery and expertly cooked inside with a jacket of gorgeous, formal char on the outside: one of the most perfect eight ounces of meat I've encountered, and just what the best steakhouses should always deliver but very rarely manage.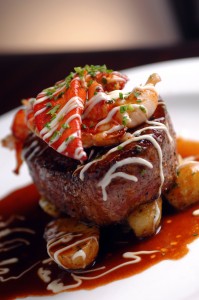 Desert was an interactive experience and despite our alcohol intake Troy was confident enough to bring us real fire to roast marshmallows to put on house-made graham crackers painted with s-curves of chocolate ganache, and not nearly enough chocolate ice cream for that whole hot/cold delightfulness.
On the drinking side of the menu we test-drove a Maretima Pinot Grigio from Della Venezie, Italy and a Belle Glos "Meiomi" California Pinot Noir, which we found in need of retesting, so we had some more.  The fine and manly-sized wine list also included sakes, Old and New World wines by the bottle, and artisanal beers such as Blackstar Double Hopped Golden Lager from Montana, and a Dogfish Head IPA that made the trip all the way from Delaware.
So while we know that Las Vegas is all about looks, remember that sometimes a medieval castle is actually home to worn old hotel rooms, and that a black glass pyramid won't necessarily make you feel like Cleopatra inside.  By the same token, you might discover that a restaurant with a look that takes you back to high school may serve one of the best dinners you've had since you were a teenager.