As my wife, Renee, and I were slurping pho—a hot, spicy noodle soup with ever-changing ingredients that is the national dish of Vietnam—in a French-inspired restaurant on a lively boulevard in Hanoi, it occurred to me that this meal provided the perfect analogy for the city itself.  Hanoi is also a steamy, colorful broth of contrasting flavors that somehow work together in delicious harmony.
Renee and I had become accustomed to the yin-yang mix of everything from politics to culinary influences in this lovely colonial city that seems defined by contradictions: on the outskirts of Hanoi we saw glass skyscrapers rising out of fluorescent green rice paddies.  In the Old Quarter, women in traditional peasant garb and conical hats, lugging heaps of mangos in baskets hung on the ends of long wooden poles, sold their wares outside couture dressmakers and cellular phone shops.  A modern coffee chain whipped up iced lattes close by to a dark storefront where bottles of snake wine (with cobra heads prominently posed inside) lined dusty shelves.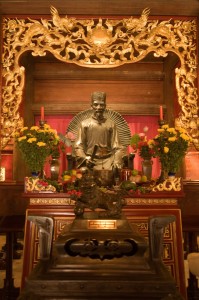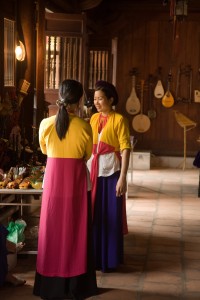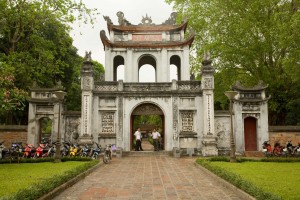 Long known as the City of the Soaring Dragon, Hanoi has served as the Vietnamese capital many times over nearly 1,000 years.  This on-again off-again prestige may partly explain the city's charmingly bi-polar personality.  Most recently, following their August Revolution in 1945, the Communists pronounced Hanoi the capital of North Vietnam—although they couldn't occupy the city until they finished driving out the French nine years later.  Although Vietnam has embraced a western-style market economy, it still remains under Communist rule.  Today Hanoi is once again capital of the entire, reunified nation, having outlasted a centuries-long line of invaders from across the globe.
The city spreads along the Red River and clusters around several lakes, the most central being Hoan Kiem.  Whether you're traveling in the quaint cobbled streets of the Old Quarter, or among the apartments and office buildings blossoming like lotus flowers in the shiny new business district, Hanoi blends ancient monuments, French colonial architecture, and nouveaux-urban elements in a rich multi-ethnic concoction.  It mixes a timeless sepia beauty and a streamlined modern aesthetic.
Like most visitors, Renee and I spent the bulk of our time walking in and around the startling Old Quarter, which has been the center of commerce and culture and contrasts here for a millennium.  Although cabs (and motorcycle rides) are cheap, and you can even hire a bicycle-powered cyclo taxi nearly anywhere, Hanoi is a city to explore on foot.  Just watch out for whizzing motorcycles carrying everything from entire families of four or five people, to large sacks of rice, to live pigs.
On our first morning in Hanoi we fortified ourselves at the vast breakfast buffet at our hotel, the old-world Sofitel Metropole, by assembling a collection of dishes that included Chinese dim sum, a cilantro-infused pho, French baguettes, and American-style eggs and potatoes.  Afterwards we headed out for a leisurely walk and photo safari in the Old Quarter that ended up consuming most of the day.  In a leafy park close by to the Metropole we watched locals practicing tai chi and playing badminton.  We observed blue-uniformed students on their way to school. We overheard the musical din of businessmen talking quickly into tiny cell phones.  Then we entered the action.
Back in the 13th century, each of the professional guilds in Hanoi claimed a street in the bustling Old Quarter as their own and named it after what they crafted or sold.  So we walked along Knife Street, where gleaming rows of cutlery, hatchets, and scissors beckoned; Flower Street, abloom with tropical colors; and one lane that should have been named Cheap Souvenir Street with its tee shirts and laquerware.  The warren of small stores seemed to go on for miles, with each block revealing something more of everyday life: a television soap opera visible through the open door of an herbal medicine shop; a woman washing her hair with a bucket in an alley; the crowns of bright red flame trees separating the first-floor shops from the residences above them, built high and narrow because the Vietnamese are taxed based on the amount of street frontage their structures occupy.
After an hour of twisting, mysterious turns and uncountable photo ops with Renee's new digital camera (she is trying to turn her passion into a part-time career), we decided to expand our range and walk to Ho Tay Lake, on the western edge of the Quarter.  On the way, after strolling along a wide boulevard lined with French colonial mansions housing foreign embassies, we stopped at the Quan Thanh Temple, dedicated to the God of the North.  This shady oasis was established during the Ly Dynasty (1010-1225) and still displays a bronze bell and statue from 1677.  At a small shop at the back of the temple we bargained for a carved Laughing Buddha that we felt would continue to be amused sitting in our garden at home.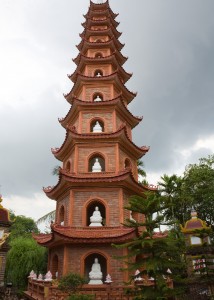 By the time we reached the 6th-century Tran Quoc Pagoda beside Ho Tay Lake, hot sun had given way to warm rain.  We took shelter in a small pavilion beside the red brick pagoda and watched men fishing in the still water against a distant dark sky that sparked with lightning.  Lacking raincoats, we ran for a nearby café.  We ducked beneath a dripping tarp in the shadow of a modern high-rise and enjoyed "bia hoy" (fresh beer) while sitting out the cloudburst on plastic stools in the company of a few locals.  By early afternoon the heat and beer and long walk combined to send us perambulating much more slowly back to the Sofitel Metropole for a long nap in our Parisian-inspired room.
In addition to just walking through Hanoi, which is its own free attraction, there are a number of specific tourist sites worth visiting, as well.  We spent the next day checking out obvious suspects.  We began with the Temple of Literature, a well-preserved example of Vietnamese architecture from the 11th Century, encompassing decorative entrance gates, courtyards, pavilions, and lotus ponds.  Emperor Ly Thanh Tong dedicated the temple to Confucius. Hanoi's first university was located here as well.  Stone stelae resting on the backs of stone turtles pay tribute to recipients of PhDs centuries dead.  During our visit we observed a high school graduation ceremony.  Giddy students and proud teachers aside, the Temple offers an enclosed oasis of peaceful greenery.
Next up was the Army Museum, boasting displays from the French occupation and what the Vietnamese refer to as "the American War." The museum is testament to the fact that every controversy invites more than a single perspective.  We also toured the somber Hoa Lo Prison, known facetiously by American POWs as the Hanoi Hilton.  Exhibits include the guillotine and leg chains used by the French in the 19th and 20th centuries, as well as a display about American prisoners such as John McCain and Pete Peterson (first U.S. Ambassador to Vietnam) who were held there during the conflict.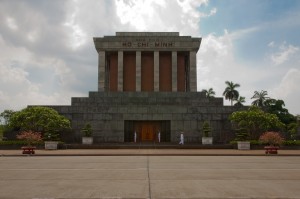 Following a strange visit to see Ho Chi Minh, himself—preserved in a daunting monument kept frigid as a glacier since his death in 1969—we ended a day of touring with a more light-hearted stop at the Hanoi Water Puppet Theatre, where traditional rural folk tales are acted out by puppets suspended above the surface of a pool of water.  The buffalo with the flute, dancing dragons, and unicorns playing with a ball were clear audience favorites.
After the requisite nap in our luxurious room at the Metropole, we headed out with a few new friends— a group of travel agents we'd met— for the nicest dinner available in Hanoi.  At the toney Hanoi Press Club we mixed Vietnamese dishes such as crispy spring roll appetizers and spicy pho with Australian beef filet entrees, all accompanied by French wine.  Afterwards, a few of us smoked Cuban cigars and played poker in one of the Press Club's private rooms while the others went for the ubiquitous post-prandial stroll.
Given the fast pace of our Hanoi visit, we opted to end our adventure with a cool side trip outside the city.  We traveled a couple of hours through concrete suburbs giving way to fields scattered with water buffalo on the way from Hanoi to Halong Bay, where in Vietnamese folklore a mythical dragon descends into the sea.  Some of the three thousand limestone islands floating in the Gulf of Tonkin looked very familiar to us from screen prints we'd seen hanging in countless Asian restaurants back home.
Although day tours are available, World Heritage Site Halong Bay is best visited aboard an overnight boat such as the classy Emeraude, a replica French paddle wheel steamer from the 19th century.  During the day the Emeraude motored us past floating villages and rocky islands with pagodas clinging to the summits, and stopped long enough for us to hike and to explore massive caves hidden within some of the islands.  In the evening, the boat docked in a quiet cove in time for a sunset kayak trip before dinner in the formal dining room and an overnight stay.  We ended our day sipping citroen presses on the canopied top deck of the Emeraude, imagining that the rocky spine of islands off the port side was the tail of a dragon, disappearing back into the sea.  It was as different from the pace of Hanoi as a dragon is from a sleepy traveler.
All photos by Renee Renfrow, www.r2artinc.com.
Places to Stay
The mid-range Queen Hotel (65 Pho Hang Bac, 826 0860, www.azqueentravel.com), three blocks north of Hoan Kiem Lake, offers rooms with air conditioning, balconies, wood floors and trim, and a neat, simple Vietnamese aesthetic.
For little more than the price of a decent chain hotel in the states, enjoy the high-end Hilton Hanoi Opera Hotel (1 Le Thanh Tong, 933 0500, www.hanoi.hilton.com), located next to—you guessed it— the Hanoi Opera House.  While exuding the feel of a business hotel, and modern rather than charming, it's a sturdy, comfortable, if familiar choice.
Sofitel Metropole Hotel (15 Pho Ngo Quyen, 826 6919, www.sofitel.com.)  Considered by many to be among the best hotels in Asia, the Metropole's exquisite service, colonial décor, and French accent will make you feel like one of the heads-of-state or other celebrities who've slept here.  Built in 1901 around an interior courtyard garden, the Metropole is a mood piece and an island of quiet elegance in a relentlessly stimulating city.
Though not a hotel, exactly (it's more of a boatel) and not in Hanoi, the Ms Emeraude (934 0888, www.emeraude-cruises.com) — consisting of 38 cabins, one suite, two bars, and formal restaurant aboard a replica paddle wheel steamer from the last century–  tours through World Heritage Site Halong Bay, a requisite side-trip from Hanoi.
Places to Eat
An acronym for "Know One, Teach One," KOTO (61 Pho Van Mieu, 747 0337, www.streetvoices.com.au) is staffed by former street kids and disadvantaged youth being trained for careers in the food industry.  Located beside the Temple of Literature, the restaurant's two dining rooms serve a wide variety of Vietnamese and European cuisine ranging from clay pots and stir frys to sandwiches.
Ensconced in a restored 1928 French colonial villa, Green Tangerine (48 Pho Hang Be, 825 1286) offers a nightly set Vietnamese dinner as well as a balanced mix of  creative French and Asian dishes.  Sauces are sublime, as is the rack of lamb in coffee, which is flavorful and invigorating at the same time.  For a quieter meal ask for a table upstairs.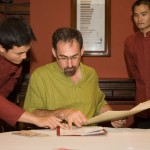 The upscale, award-winning Hanoi Press Club (59 A Ly Thai to, 934 0888, www.hanoi-pressclub.com) has been called the #1 restaurant in Hanoi.  It's actually four restaurants—a Zen-inspired deli, a dark wood coffee bar, a terrace nightclub, and an upscale eatery.  For an unforgettable dinner in the main restaurant, start with the seafood chowder or curried samosas followed by Australian beef or sea bass with passion fruit butter sauce. And save room for the mango trilogy for dessert.