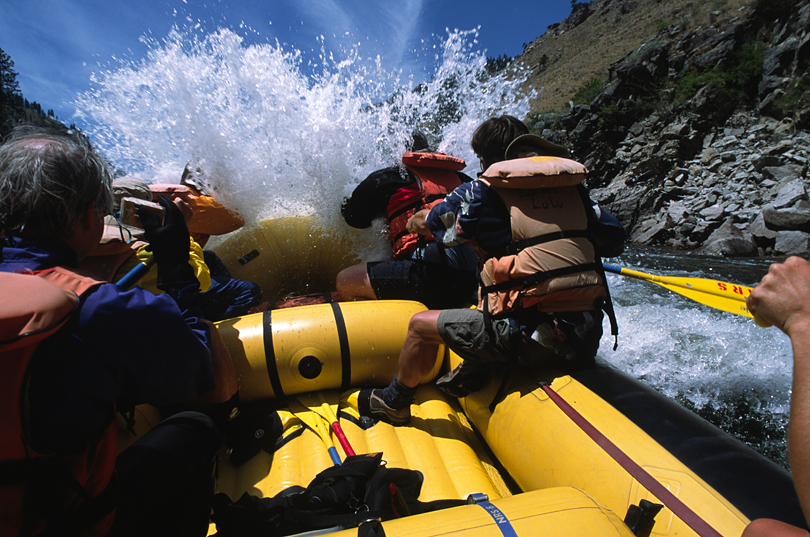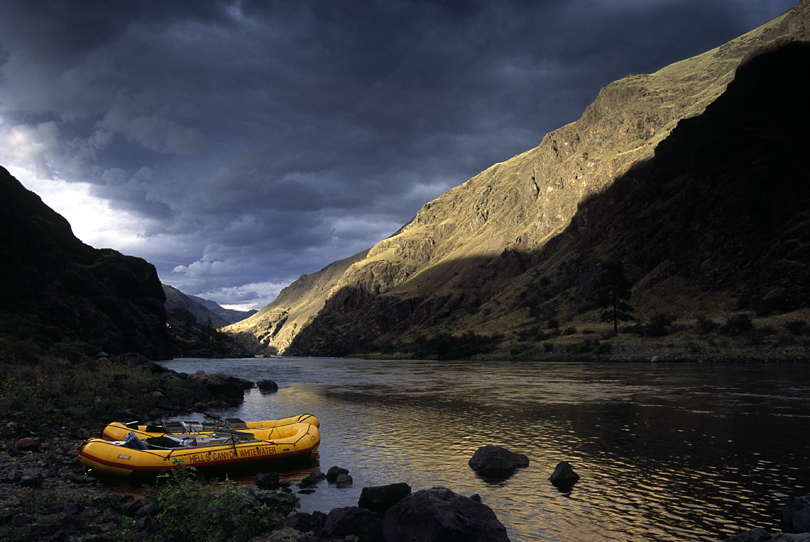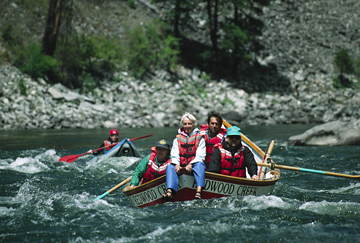 In my own humble opinion as a former professional guide, there is no better way to travel than on a river, whether you're after a white-knuckle whitewater adventure or a floating meditation, a remote escape beyond the reach of cell phones or an afternoon romp on a day when the city is too hot to bear.  There is just something about moving water.  I have seen grown men weep at the beauty of water flowing over smooth stone and heard children bark in uncontainable delight in the limitless playground of the wilderness.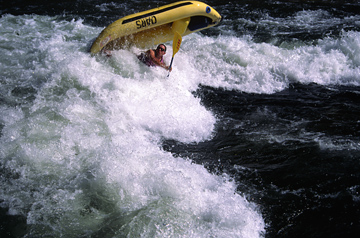 An old saying holds that every day spent on a river adds two more days to your life.  And if you spent those extra days on a river, too  . . . well, then you'd never get anything done.  Which is exactly the point.  But river trips vary widely and you'll want to make sure that you choose the one that's right for you.
For many folks, choosing the right river can be as difficult as paddling through foaming whitewater.  Following is a menu offering some of the best and most varied outings in the great Northwest— which for my money is the whitewater capital of the known universe—as well as some crucial information to consider when picking a trip.
Alaska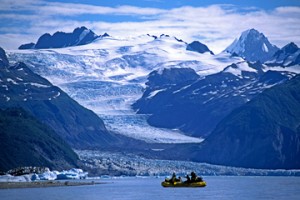 Most commercial trips on Alaska's Class II-III Tatshenshini River run nine or ten days and cover 140 river miles that cut between towering mountain ranges.  Leon Werdinger, a guide with Rivers and Oceans, describes the "Tat" as one of the three premier river trips in the world (along with the Colorado through the Grand Canyon, and Chile's Bio Bio, which currently lies beneath a reservoir).  "It's a totally pristine wilderness with spectacular scenery," Werdinger says.  "It's very likely you'll see grizzly bear and tons of bald eagles.  There's a chance you'll see wolf and moose."  Highlights of the trip include side hikes on the Walker Glacier, daylight until ten in the evening, and travelling between icebergs and calving glaciers on Alsek Lake.  Werdinger adds, "People should be warned: you can get beautiful weather or a week of 40-degree temperatures and rain, and the water is frigid, not swimmable."  He recommends the trip for adventurous adults who crave a genuine wilderness experience.
One drainage over from the Tat, the Alsek River offers a similarly remote trip of 12-16 days covering 180 achingly scenic miles.  The major difference is that the Alsek boasts some major-league whitewater, including two days of exhilarating Class IV drops.  It also flows through unrunnable Turnback Canyon, a six-mile stretch of hairball rapids that commercial trips portage via helicopter, providing a different kind of thrill.  The Alsek eventually flows into the Tat so the last few days of these trips are the same.
Washington
For some reason, the Evergreen State suffers from a dearth of commercially runnable rivers.  Jeff Bennett, author of A Guide to the Whitewater Rivers of Washington and several other river-related books, explains, "In Washington there aren't really any rivers that traverse a wilderness area, and the mountains here make rivers steeper and shorter.  But there's great river access for day trippers."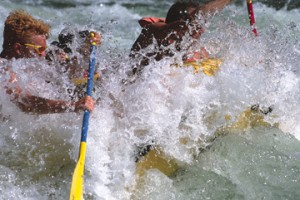 For me, the scariest part of running Washington's White Salmon River was watching my raft lowered 150 feet into the steep canyon on a cable winch.  A sliding rail system has since been installed but this dramatic introduction still portends the excitement to come.  From the moment you push off shore onto this cold, clear mountain river in the Columbia Gorge your pulse will keep pace with the fast current.  I would call trips on the White Salmon an adrenaline chugfest of constant Class III-IV whitewater.  Jeff Bennett, who is more poetic than me, calls the river "a hidden gem because it traverses a narrow volcanic rift.  It's dripping with ferns, deep shadows, crystalline pools, and sparkling whitewater."  Not even such rapids as Corkscrew and Waterspout will prepare you for the 12-foot Class IV+ drop in Husum Falls, which many outfitters portage.
An hour from Seattle, The Skykomish River offers ten miles of Class IV-IV+ whitewater that rolls between mossy green canyons in a stunning alpine setting.  Even observing this run feels to me much like guzzling a triple espresso.  The high point of the trip may be Boulder Drop, a rapid with house-sized rocks that plummets 15 feet and is ranked as the toughest in the state.  Jeff Bennett says, "If you were to create the perfect Class IV rapid this would be it— opalescent water, giant boulders, towering peaks in the background— it has it all."
Oregon
My home turf of Oregon boasts some of the most varied whitewater a single state could possibly be blessed with—from steelhead-filled rivers flowing between the Coast Range and the Pacific, to cold mountain streams pouring down from the Cascade Mountains, to desert rivers ambling and cavorting across ancient lava flows.  I once spotted a bumper sticker on a battered pickup parked at a takeout which read: So Many Rivers, So Little Time.
The Owyhee River, in southeastern Oregon, offers one of the most unusual and remote river trips in the entire U.S.  Some years, when snowpack is low, there may not even be a river season, which otherwise only runs from April until early June.  While the Upper Owyhee is a Class V stream for experts and lunatics only, the 67 miles from Rome to Leslie Gulch offer a beautiful and far calmer trip through 1,500-foot-deep, 14-million-year-old redrock canyons that bring Arizona to mind.  Main attractions are archaeology (12,000 years of Indian history) and geology (basalt formations, granite and sandstone cliffs, hot springs)—not to mention the fact that very few people run it.  Whitewater highlights of this Class III-IV stretch encompass such perky rapids as Artillery and Montgomery.  I can attest from personal experience that you do not want to take the center run at Montgomery unless you enjoy inadvertently swimming through giant holes.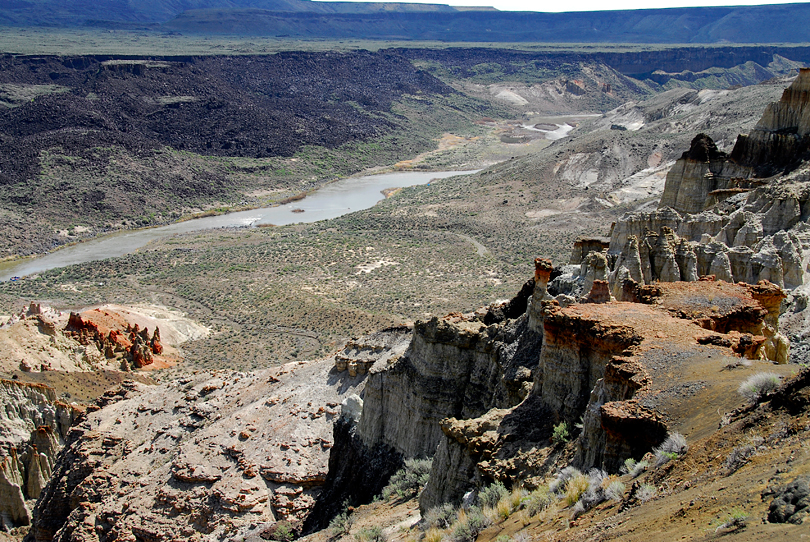 Located just two hours from Portland, the Deschutes River provides the quintessential day trip.  While longer outings are possible both above and below the clear suicide of thundering Class VI Shearer's Falls, most intrepid paddlers take on the stretch that runs from Harpham Flat to Sandy Beach and occupies half a day—though you can extend this with a great side hike to White River Falls.  The dam-controlled river's volume and temperature are as dependable as the milkshakes at the Oasis Café in the riverside town of Maupin.  The Deschutes is pure fun with little real danger (unless, as I once observed, you try to run the Class III Oak Springs Rapid on an inflatable alligator).  The cold, refreshing high-desert river is like a boisterous teenager.  Many passengers like to float in their lifejackets through Elevator Rapid—a series of deep, rolling waves.  Just remember to breathe between the peaks.
One of the first waterways protected by congressional passage of the Wild and Scenic Rivers Act in 1967, the Rogue River on the Southern Oregon coast makes for a great family outing of three to five days.  Warm water, invigorating rapids such as Class IV Blossom Bar, great fishing for salmon and steelhead at certain times of year, and a smattering of historical sites draw whitewater enthusiasts from around the world.  Visit western writer Zane Grey's cabin and either camp on riverside beaches or stay in several historic lodges.  I made some history of my own here by nearly sinking the first raft I ever rowed.  More than 80 rapids characterize this stream cutting through a roadless area in the rugged Siskyou Mountains.  The only drawback of the Rogue is that jet boats occasionally fill the canyon with noise and diesel fumes.  Make sure to write to your congressman about banning jet boats from wild rivers.
Idaho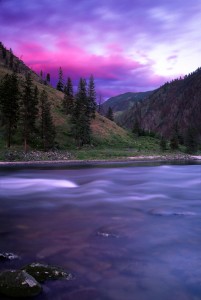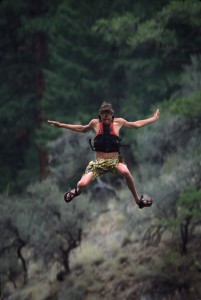 While its potatoes may be famous, Idaho's whitewater is so sublime that any river lover worth his Dutch-oven-baked peach cobbler will sing its praises.  Idaho boasts several of the premier multi-day family trips anywhere in the world—all on the river system which begins as the Middle Fork of the Salmon outside of Stanley, Idaho and ends below Hell's Canyon on the Snake.
The wild and pristine Middle Fork starts out as little more than a gin-clear mountain stream flowing over rounded stones at over 7,000 feet of altitude.  This rocky concourse drops over such rapids as Pistol and Velvet Falls, and flows past cozy campsites and a number of hot springs, which provide the perfect antidote to chilly water.  One outfitter I worked for here cooked a riverside roast beef that was so tender it brought tears to passengers' eyes (okay—maybe that was the garlic).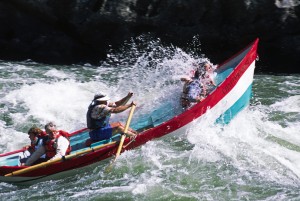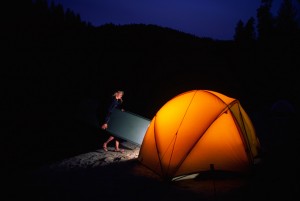 The Middle Fork empties into the Class III-IV Main Salmon, also known as the River of No Return, just above Cache bar.  The slightly less wild Main makes for an ideal six-day adventure.  Visit historical sites such as the former home of Buckskin Bill, last of the mountain men, who built a stone gun tower beside the river to protect his homestead from the federal government.  Wander the meadow where Jim Moore made his living supplying early settlers and operated an even more successful still.  Side hikes, sandy beaches, and 40 rapids (including Growler, Whiplash, and Salmon Falls) in 79 miles add to the fun.  Warm weather and calm stretches create a great opportunity for inflatable kayaking and water fights.  Lonnie Hutson, owner of Sundog Expeditions, calls the Main Salmon one of the best dory trips anywhere (see sidebar on boats).  It's my personal favorite for its balance of whitewater excitement, historic sites, scenic beauty, and quiet reflection.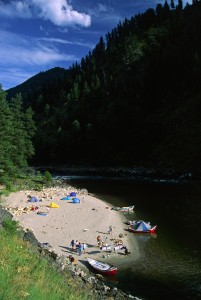 The Salmon River eventually pours into the wide, muscular, big-volume Snake River.  Just upstream of the confluence lies Hell's Canyon, the deepest gorge in North America.  Outfitters generally run three and five day trips that include rapids such as Wild Sheep and Granite Falls— rated as one of the biggest drops in the U.S.  You're likely to see bighorn sheep (I once counted 27 in one group) and other wildlife but you'll also encounter jet boats, which clearly don't belong here.  The Hell's Canyon Preservation Council (541-963-3950, www.hellscanyon.org) is working hard to limit or exclude these noisy craft from one of America's great natural assets.
California
In spite of California's size (and the size of its governor) its major river trips are short but sweet.  An hour west of Yosemite lies the Tuolumne River, which George Wendt, owner of adventure outfitter OARS, describes as "the champagne of California whitewater."  But Wendt adds that this 18-mile trip is not for everyone.  During spring runoff, for example, the rapids can get downright burly.  In August, though, the same 18 miles can be run as a more leisurely multi-day trip.  Highlights include Class IV Clavey Falls, created where a tributary stream pushed large boulders into the river channel.
Perhaps the best-known whitewater in California occurs on the 21 miles of the South Fork of the American River, an extremely perky and popular day trip featuring at least 20 rapids of note, including Satan's Cesspool and the aptly named Troublemaker.  The latter is a fun S-turn rapid with a quick chute and a large boulder in the middle.  Passengers on the South Fork can also visit the museum at Sutter's Mill, where gold was first discovered in 1848, beginning the rush to California that continues to this day, if for different reasons.
Whether you choose the bracing waters of the Tat or the Alsek or opt for the warmer, more leisurely currents of the Owyhee or the Rogue, get out on a river this summer.  It can make for the perfect companion– one whose depths you could spend a lifetime getting to know.
Rapids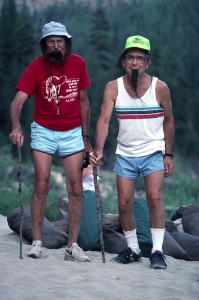 Rivers are a lot like people—formed by their surroundings and exhibiting personalities that run the gamut from frolicky to ferocious.  Rapids—the behavior manifested by these personalities—are rated according to their potential for upset and injury on a scale of Class I to Class VI.  A Class I rapid resembles, say, the water in a swimming pool when George Foreman wades in; a Class VI looks more like a frothing smoothie in a blender, and is essentially unnavigable.
Boats
You'll want to give some thought to your specific mode of travel, as river trips can be undertaken in a wide variety of crafts.  Inflatable kayaks are the most active option.  These fun loving, sturdy craft provide a very direct connection to the river (sometimes too direct!).  Many outfitters will provide a quick safety lesson and let you perfect paddling skills on the job in moderate whitewater.  If you manage the easy stuff they may allow you to take on larger rapids.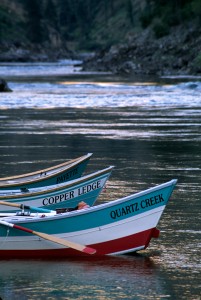 Folks who'd like to be equally active but less directly responsible for their own well-being can opt for a paddle raft, which is filled with six or eight like-minded yay-hoos under the leadership of a trained guide who steers through all manner of turbulent chaos while you provide the power.
Next on the food chain are oar rafts—big, loungy craft rowed by a guide who sits in the middle and entertains with stories (like the time the feral goat attacked Joel in the kitchen); bad jokes (Q: how do you know when a river guide is lying?  A: his lips are moving); and river lore (there's the spot where an old homesteader shot his wife because she was fraternizing with his fur-trapping partner) while you watch the scenery or fish off the bow.
The last choice and the favorite of any guide worthy of rowing one is a dory.  These handcrafted boats provide a rollicking, yee-haw ride, climbing waves with the spirit of a bucking stallion and cutting through calmer water with stately grace.   Only a few companies even run dory boats.  Lonnie Hutson, who builds and guides dories, says, "On the right rivers we always pick dories—and there are only about a dozen rivers in the U.S. that can handle them.  These boats are more comfortable and you get much more air time on big waves.  Major John Wesley Powell's initial exploration of the Colorado River in 1869 and all the early river trips were done in little wooden boats.  Dories take that to the next level."
Outfitters
If you're thinking about taking a river trip but don't want to end up like Meryl Streep in the movie The River Wild—or you'd simply prefer to have someone else handle the dangerous parts (like the cooking)— consider a fully-outfitted trip.  George Wendt, owner of OARS, which runs luxuriously outfitted river trips throughout the world, says, "I think the logistical challenges make it easier for most people to find an outfitter who already has all the equipment, trained guides, a launch date (required on certain western rivers), etc."
When looking for the right outfitter remember that posting a flashy website is simpler and less dangerous than running whitewater.  Wendt suggests that you call and ask a company how long they've been in business and how much experience they have on a particular river.  "Ask for names of references.  Ask them to tell you about their guides, who are key to any trip.  Ask about equipment.  And use questions as a tool for assessing the company's knowledge and style of communicating."
Many outfitters compete on the levels of service they offer.  On some trips you can practically get a pedicure while your guides are busy whipping up a seven-course dinner.  Other outings are more participatory.  As Lonnie Hutson, owner of Sundog Expeditions in Deary, Idaho explains, "I find people have a better time on our trips if they really contribute.  People like to get involved, whether that means helping with gear or chopping vegetables in the kitchen.  Passengers and guides really bond when they work side by side."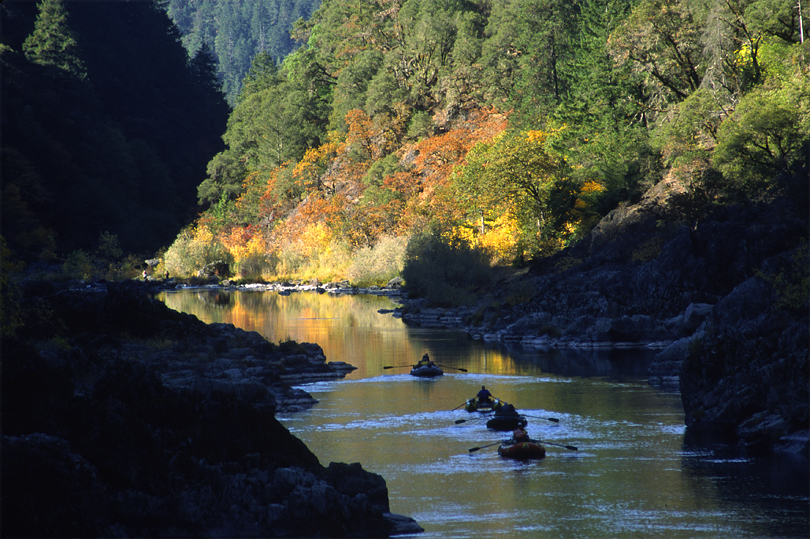 All photos by Leon Werdinger, Ottertrack Productions.
River Resources
Outfitters:
Books:
A Guide to the Whitewater Rivers of Washington

, by Jeff Bennett, Alpenbooks

What The River Says

, by Jeff Wallach, Blue Heron Publishing

Soggy Sneakers

: A Paddler's Guide to Oregon Rivers, by Pete Giordano, Mountaineers Books