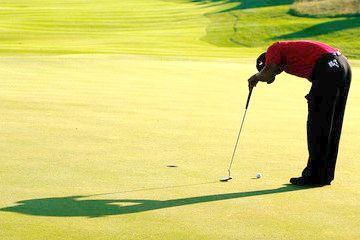 My friend and fellow blogger Stephanie Wei recently wrote on her blog that the golf media now should be much more aware and open about digging into and reporting on the previously very private lives of golfers. While I agree that sports journalists owe readers the truth about "private" acts that affect the game and a player's performance (steroids/performance enhancing drugs, gambling, illegalities, etc.), I'm not convinced that extends to truly personal matters.
I'm not saying the media shouldn't have uncovered and reported all that we've now learned about Tiger, but we certainly could have toned down the non-stop scrutiny on his marriage and kids. Yes, of course, the public has a right and, some will say, need to know, but I contend only up to a point. We all deserve some privacy in truly important matters. Even a superstar such as Tiger.
Do these things really figure into our appreciation of a player's ability to play the game? As a fan, yes; that's always a personal decision and one that can and should be influenced by an idol's hewing to our personal code of ethics. But as numerous pundits have pointed out, say what you will about Tiger's end-of-decade revelations he remains the greatest player (no, not playuh, that joke's over) in the game and still deserves our respect for all he's done inside the ropes. He likely would have earned even more respect had he been more open with the public and the media, but honestly, that's not required. Maintaining near silence was his choice just as it is always our choice how to respond—whether we root for him or against him; buy products from Nike, AT&T, Accenture, Tag Heuer, Buick; and so on.
If nothing else, this is all grist for the mill of celebrity worship, of gossip and titillation, of that wonderful German word schadenfreude—joy at others' pain. This is the world we live in and as one crazy decade ends I doubt human nature will change very much.
A final, I hope, note. Just a day or two after Golf Digest announced that it would be suspending Tiger's instruction articles while he is not playing on Tour, today's Wall Street Journal ran an opinion piece by well-known writer Joe Queenan on how Tiger should begin his attempts at redemption. In essence, Queenan suggests that Tiger should write a column for the online magazine Slate, intimating that he could really tell us things about life on the inside of professional golf. My take? If Tiger had ever deigned to give us a peek behind the curtain, none of this would have happened.
Happy Holidays one and all. My holiday wishes are for the game of golf: Growth, excitement, new players, great tournaments, health and good cheer. Naive? Perhaps. But I can dream, can't I?