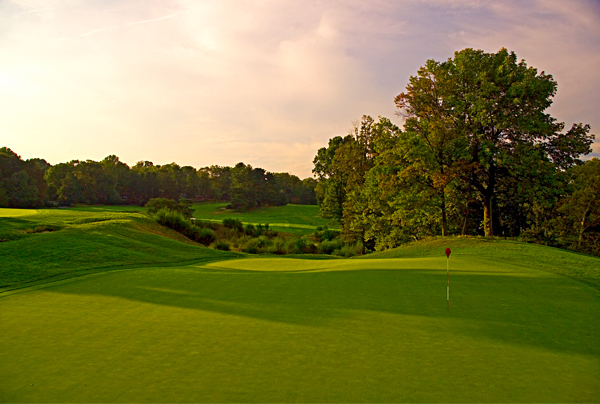 If you doubt the power of the Internet, here's proof that technology and tradition do mix.
Back in January, The A Position ran its first "A List," a monthly compendium of answers to a question we put to all TAP writers. We asked our golf experts which course they most wanted to play in 2010. While many opted for new tracks slated to open this year, I went backward and hoped for the chance to play the East Course at Merion, in suburban Philadelphia, site of the 2013 U.S. Open. Besides being a famous layout designed by Hugh Wilson, it was the only one of the top 10 courses in this country—if you believe the annual magazine rankings—I had yet to play. And it is only a two-hour drive from my New York City apartment, making it the second closest of America's finest courses, just a little farther from me than Pine Valley.
Enter my white knight, Gordon Dalgleish, co-founder and president of Perry Golf, one of the world's leading golf-tour operators, and a club member. Gordon read my entreaty, invited me to be his guest, and the date was set. My chance came last Thursday and it was, clichés be damned, unforgettable.
Very much at home in its stately Main Line setting—big, leafy trees shading even bigger homes—Merion is a brilliant design on the smallest piece of property you'll ever see for major-championship golf: Its grounds are little more than 125 acres, well less than half what most new courses span today. But every inch is perfectly used, which is why the course has been the site of numerous great moments in golf history.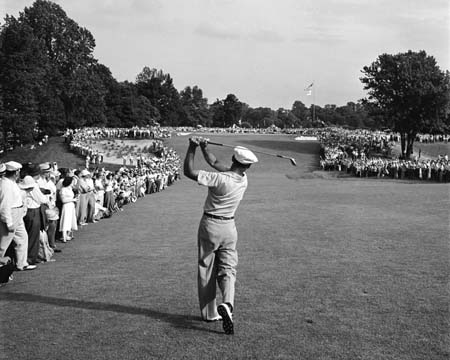 It was on the short, downhill 11th hole that Bobby Jones captured the Grand Slam, halving the hole to win the final match of the 1930 U.S. Amateur; of course, there is a plaque. There's also a marker in the middle of the 18th fairway near the spot where Ben Hogan, 16 months after his near-fatal car crash, hit his famous 1-iron—immortalized in one of the best-known golf photographs ever taken (left)—during the playoff for the 1950 U.S. Open. Merion also hosted the 1971 Open, decided in a playoff between Jack Nicklaus and Lee Trevino, which Trevino won after he threw a rubber snake at Nicklaus while they waited on the first tee to begin. In all, 18 national championships were played over the East Course.
Also held here was the last Walker Cup, the biennial match between amateurs representing the United States and GBI (Great Britain and Ireland). Captaining the losing GBI side was Gordon's brother Colin, himself a former Walker Cupper, who runs Perry Golf's business on the other side of the Atlantic.
I won't go hole-by-hole, but suffice it to say Merion's design is masterful, with the holes, as one book put it, fitting together like a jigsaw puzzle. The perfect walking course—the land rolls gracefully and tees are just a few steps from preceding greens—the time flies by, a memorable parade of shots good and not so, very tricky greens (even though they were slow by club standards), laughs, and lessons in golf architecture.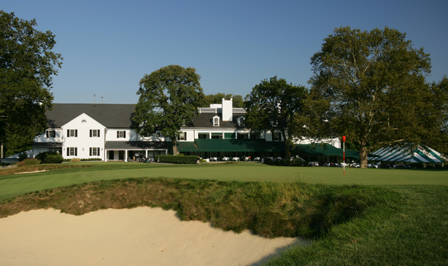 In 1910, the club sent the 31-year-old Wilson to Britain for a seven-month tour of great courses. He came back and laid out a course that opened in 1912 and was significantly changed with the addition of land, and new work from Wilson, in 1924. He designed only one semi-facsimile hole: The par-three 3rd is a "Redan" similar to the original at Scotland's North Berwick (and copied at the National and countless other courses). Other than that, Wilson borrowed notions and feelings and quirks. For example, there are only two par-fives and they're both on the front side, numbers 2 and 4. The 17th is a long (220-plus yards) par-three with a St. Andrews-like Valley of Sin fronting the green. But other than that, Wilson used the natural features, such as a stream that wanders through the grounds, to maximum effect, to tighten and define. He also constructed 120 or so bunkers that are gloriously shaggy and natural (see photograph below)—and brilliantly positioned—and built 18 small, deceptive greens that test golfer and caddie on every putt.
Narrow as the East Course is—and as nasty as its rough—it is not primarily a driving course; the secret is approaching the greens to leave any kind of makeable putt. From just off the greens, touch shots demand precise judgment of aim and distance. In season, when the greens are running fast, groans and sobs must echo through the tall trees. Unfortunately I made a hash of 16, the famous "Quarry hole," by snap-hooking into a bunker and embedding my blast in the long-grass face. However, my host hit a wonderful long bunker shot from a sandy pit in the quarry to tap-in range for an all-world par. Patience and resolve are the keys throughout.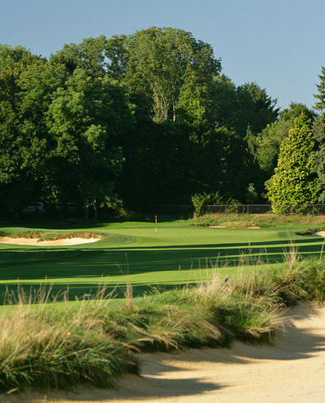 How will Merion handle the '13 Open? It is not a spectator course—there is precious little room—and the logistics people must wonder how they will park the cars, transport the fans, and mollify pros used to thick cordons of security. The course I played listed the back tees at 6,482 yards; a number of championship tees were pointed out, but there's not another 1,000 yards to be found unless tees are placed on someone's patio. (When the 2005 U.S. Amateur was held here, the course played to 6,868 yards.) Expect today's big hitters to bag their drivers and search for low scores with wedges and putters.
Similar concerns were raised 30 years ago when the Open was held here and Nicklaus was the bomber of the day: Both he and Trevino finished regulation at even par 280. That's unlikely in 2013, but no doubt the USGA has ways of making a course like this diabolical while making the players crazy. I can't wait.
After the 1971 Open, Jack said, "Acre for acre, [Merion] may be the best test of golf in the world." Who am I to argue?
Thanks to the unknown and uncredited photographers whose pictures are reproduced here in a futile attempt to capture Merion's grandeur and history.