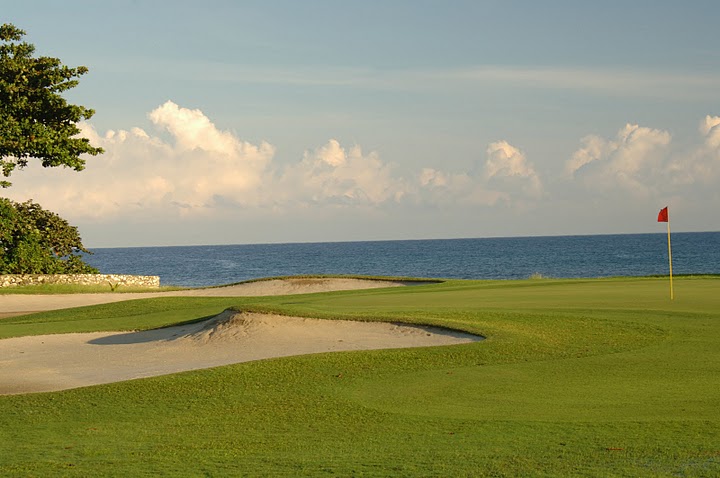 Before arriving in Jamaica, visitors are required to fill out an immigration form that asks, among other things, what type of accommodation they'll be staying in. The choices include hotel, guesthouse, private home, dive/eco lodge, and bed & breakfast.
None of these selections do justice to The Tryall Club, but luckily, the form lists an additional option: "Other (specify)." So I will.
Located on Jamaica's northwest corner 12 miles from Montego Bay, the 2,200-acre Tryall Club has everything you'd want in a golf vacation: a terrific course, beaches, tennis, restaurants, a kids' club, pools, numerous bars, but no hotel. Instead, it offers privacy and pampering even five stars can't buy.
Calling Tryall a resort is not so much inaccurate as unfair. It is a private club that rents out its homes, magnificent villas that are steps from the sea or cut into a verdant mountainside. And for a few days, a week, or however long the owners of your villa let you pretend it really is "yours," you are treated like a club member.
The 84 villas range from one bedroom to eight, come with full-time staff (often including a chef, gardener, even a laundress), and cost from $4,000 to $35,000 a week to rent depending on size and season. Each is someone's home, individually decorated and filled with personal touches. Almost every villa has a pool (often more than one), some have a sauna or gym. All have views of the multi-hued Caribbean Sea, and all are designed for eating, drinking, and relaxing alone or with friends.
Tryall has only recently nudged its doors open, reaching out to families, couples, and golfers looking for a one-of-a-kind retreat. But the club actually is more than 50 years old, founded in the late 1950s by a group of Texans on land that over the previous three centuries had been an English fort, sugar plantation, and coconut farm. Much of the Great House—which now encompasses offices, a dining room, bar, and other public areas—dates back to the early 19th century and still retains a manorial feel, halfway up the hill, the club spread out below it.
A number of notable Texans were early investors and owners, including former Governor John Connolly and Senator Lloyd Bentsen. But the Texan with the most pronounced and profound influence was golf course architect Ralph Plummer, who was born near Fort Worth in 1900, died near Fort Worth in 1982, and oversaw the design, redesign, or construction of 100 courses, nearly all in his home state. At least one of the Tryall Texans must have liked Plummer's work because he was brought in to design the club's course, which opened in 1959.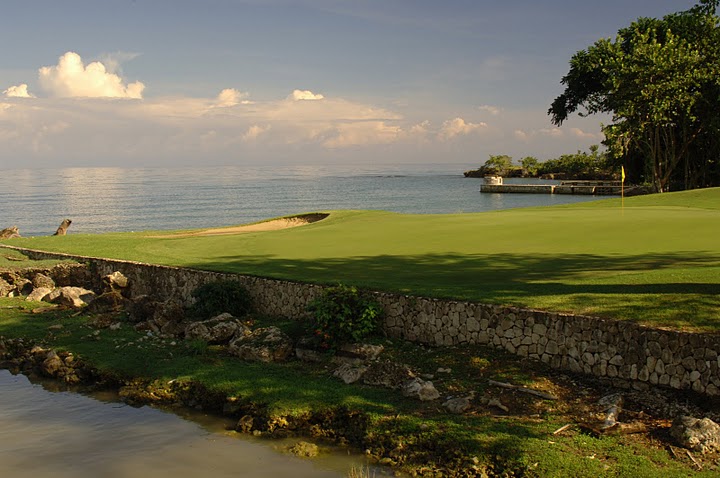 Plummer was a creature of the Great Depression. A good player, he was a club professional in the early 1930s while also working for golf architect John Bredemus. In 1935, Plummer signed on as construction foreman for what became one of Bredemus' most celebrated courses, Colonial Country Club: A number of experts, including Byron Nelson and Jackie Burke Jr., have said Plummer deserves more credit for the layout of Colonial than history (or club records) gives him.
Plummer designed without moving too much land, building too many hazards, or spending too much money, attributes that no doubt served him well when he hung out a shingle after the war. Among his creations are the Cypress Creek Course at Champions Golf Club in Houston (1959), where he worked closely with Jimmy Demaret, and Preston Trail (1965) in Dallas, where he teamed with Nelson, as well as the remodeling of Northwood (1950) in Dallas. There aren't many articles in the archives about Plummer, but every one notes that he had a hand in all three Texas courses to host a U.S. Open—Colonial (1941), Northwood (1952), and Champions (1969).
No one will confuse Tryall with an Open venue, but that doesn't mean it isn't attractive, strategic, and challenging. It is a stern test for any golfer, particularly when the wind is blowing—as it does most every day, especially in the afternoons and usually off the sea.
In true Plummer style, there is no extraneous or unnecessary feature on the course. The few hazards he built (including large freshwater ponds that help define the first six holes) look natural. The course begins and ends near the sea, on land that is absolutely flat except for slightly pushed-up tees and greens. Throughout the course, holes bend and move, some slightly, others strongly; it's important to place tee shots wisely, noting where fairways narrow, judging lay-ups precisely, and knowing how to hit and hold the subtly contoured greens.
Beginning at number seven—which tees off next to a working water wheel that dates back to the early 1800s (and lends its name to a delicious rum drink served at the club's bars)—the holes climb and drop, climb and drop, reaching a high point at the 12th tee, nearly 200 feet above sea level. The course serpentines up the mountain with an uphill approach shot followed by one downhill, so the round never becomes repetitive or dull. A few holes are cut against the grain of the mountain, making it hard to find a flat spot in the fairway and leading to awkward sidehill lies. And trees that beautifully frame those fairways can quickly become ugly obstacles.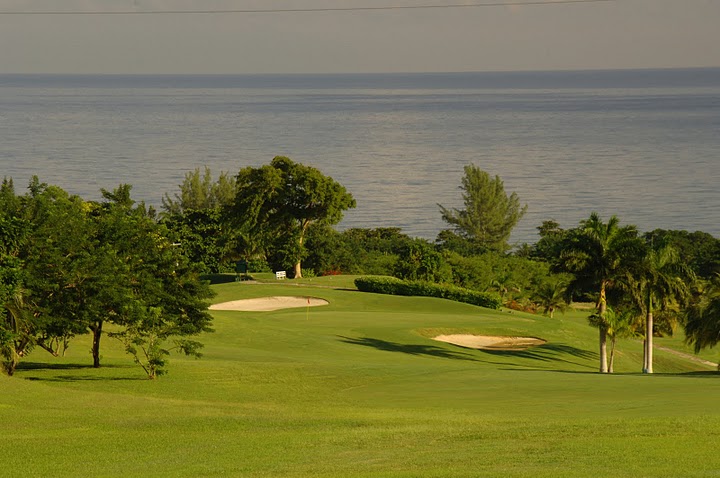 The 10th and 12th holes are both downhill par-threes that require very different tee shots—first short, then very long. When the course starts back down the mountain, the sea returns to view: The 14th hole (left) has been voted one of the game's most beautiful, the green seeming to float in the vast blue-green ocean. The final four holes traverse nearly 270 degrees of the compass, heading down, right, hard left, back right, and finishing perpendicular to a wind almost certainly coming off the water at round's end.
Tryall has hosted the pros on numerous occasions. Players from the LPGA and PGA Senior Tour competed in something called the Mazda Champions in the mid-1980s, which was followed by the LPGA Jamaican Classic from 1988-90. Fred Couples won Tryall's first and last Johnnie Walker World Championships in 1991 and '95, bookending victories by Nick Faldo, Larry Mize, and Ernie Els. Before the first JWWC, pundits predicted ridiculously sub-par rounds on the seemingly defenseless course: In fact, Couples was the only player to break par over four days.
In preparation for the '92 Johnnie Walker, the club traded lots on the mountain to one of its members for a piece of beachside real estate that is now the scenic, and treacherous, par-three fourth hole, where a long-iron or hybrid shot needs to carry the Flint River while battling the left-to-right sea breeze. Other changes were made up the mountain, with back tees added at the par-three 12th and the long, slightly vertiginous, par-four 15th. Even if they're too much to play, check out the far-back tees and notice how small fillips can have clever, and taxing, effects on already very good holes.
The course at Tryall is like the club: something special—a classic not to be missed.
For more information on the club, the course, other amenities, and villa rentals, check out the website, www.tryallclub.com.
Green fees
Guests staying at the club: $100.
Seven-day green fee package: $400.
Visitors staying off property: $145 (call first to arrange a time).
Caddie: $45
An edited version of this story appeared in the July issue of Texas Golfer magazine.