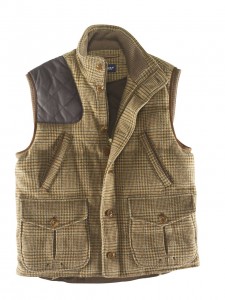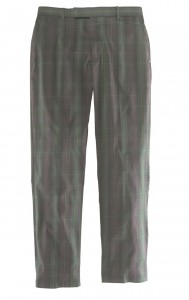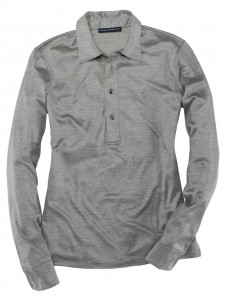 Left to right: Polo Golf Tweed Vest, RLX Golf Tartan Greens Pant, Ralph Lauren Golf Stella Polo.
There was fashion galore at the PGA Show, and nowhere more excitement than in the Ralph Lauren booth, where the company's three golf-specific collections—Ralph Lauren Golf, Polo Golf, and RLX Golf—were on vibrant display.
I'm always tempted, when writing about fashion, to say little and run as many images as possible: One picture worth 1,000 words, and all that. So here are but a few words about the lines.
For Fall 2011, Ralph Lauren Golf maintains its standards of modern, elegant luxury, highlighted by fun details and a focus on fit. Every collection in the booth was ablaze with bright colors: Here are bursts of neons with silver trimmings. There are also numerous technical outerwear pieces, water-repellent and breathable, designed to be layered. And lots of vests.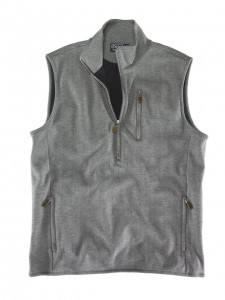 Polo Golf—worn by Tom Watson and Davis Love III—is the company's heritage brand, aimed at the serious golfer. Two fall lines offer interesting contrasts: One is based on a gray backdrop and sophisticated patterns, the other features bold colors. For example, there's a Merino wool half-zip top that comes in field green, deep blue, camel, purple, and orange. Argyles are similarly color-rich, and there's a new long-sleeve polo shirt and numerous plaids. One of the signature pieces is an English lambswool vest (shown at the top), very tweedy, with a waxed cotton hunting patch and utility flaps. For those of you who want to go from the golf course to the fox hunt. The herringbone vest (right) is a little more sedate, golf-wise.
By the way, Polo Ralph Lauren recently signed on to be the official apparel outfitter of the USGA as well as U.S. Open officials and volunteers for the next five years. Expect to see special Polo attire coming out of this arrangement.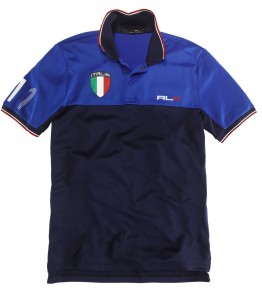 RLX Golf, for men and women, is where the company gets a little crazy. But it's crazy with performance, worn on Tour by England's Luke Donald and Italy's Matteo Manassero: There's a commemorative polo shirt for each player in his country's colors (that's Italy, left). The rest of the line is just as colorful, with all the looks designed to be paired with a classic navy (pants, sweaters, etc.). The Drive-3L rainsuit has been reworked: the three-layer fabric is seam-sealed and totally waterproof, the zipper has been placed at a slight angle to reduce bulk and bunching, and there's more stretchiness in the back of the jacket.
Okay, I tried. Take a look at the images here, then go to the website for much more. You'll start to see pieces from all the lines hitting better on- and off-course shops soon.