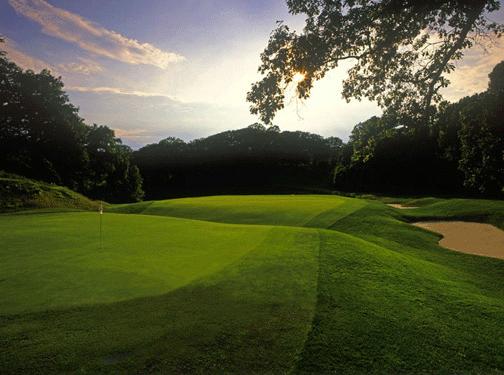 Today I played the wonderful Golf Course at Yale, outside New Haven, Connecticut. This wasn't the first time I'd gone around the C.B. Macdonald/Seth Raynor layout, but it was the first time in about 20 years, which got me to thinking about my golf experiences, and yours.
The other time I played Yale was in the late '80s or early '90s. I think. In those days, the editors of Golf Magazine combined an annual editorial meeting with an annual staff championship somewhere that featured two or three really good courses. During my 18-plus years, meetings were held at resorts such as The American Club, Sea Island/The Cloister, and The Greenbrier, and in geographic areas that would allow us to play a collection of the region's top tracks: Shinnecock Hills/Maidstone/Atlantic; Baltusrol Upper/Lower/and somewhere else in central Jersey; three great courses in Westchester, etc. One year, one of the courses was Yale.
As you can probably tell, my memory of those days is spotty. As were my mental images of Yale, except for the famous 9th green (shown above), a huge surface bisected by a deep trench.
Thinking about it now, there are numerous reasons I don't remember the course: I wasn't that interested in golf architecture; I hadn't played many top courses; my game wasn't very good; I didn't realize I was playing something special; no one told me.
But today I played with Tom Dunne, a terrific golf writer and Yale member who truly loves the course and knows way too much about it. From first hole to last, he pointed out fascinating architectural features and provided a running commentary on course design circa 1926. By now, I've seen many of the precedents that Macdonald/Raynor, and Tom, were referring to, so the holes were that much more enjoyable. Also, I was able to keep in play on most of them, allowing the features to affect my strategy and my enjoyment. And Tom's love of the course was infectious. It made for a very special round.
Unfortunately, as golfers we want to get to the iconic course—once. We want to cross an Old Course or Winged Foot or Pebble Beach off our "life list." Most of us are happy to hit a few good shots, buy a shirt, and tell other golfers that we climbed the mountain.
But did we stop at the summit, look around, smell the air, and appreciate where we were? Were we smart enough to enjoy the journey and not simply aim for the destination? Did we do some homework beforehand so we'd really know what we were playing and how the architect intended to woo and wrestle with us?
This is hardly a novel thought, but I was reminded today that a great course is one that gets better with each playing. That reveals a different character and different characteristics in every round. That not only doesn't become boring on subsequent visits but becomes more enchanting and more fun.
So I now want to go back through my life list and note those courses I want to see and play a second time. Off the top of my head they include North Berwick and Prestwick; Oakmont and Chambers Bay; Cypress Point, Crystal Downs, and Pasatiempo. And easily 50 more.
Because in golf, as in so many things, once is not enough.