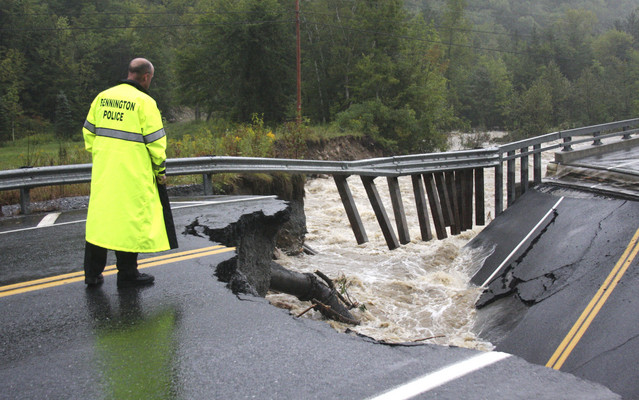 I just made a quick trip to Southern Vermont for a wedding. I was in charge of arranging golf for the men in the bridal party. We played at Brattleboro Country Club, at the very bottom of the state, and the Equinox Resort in Manchester, two really good layouts.
As you can see in the photos above and below, Hurricane Irene had its way with Vermont, a state that knows how to handle blizzards but not tropical storms. Rivers are still overflowing and many of the famous covered wooden bridges floated away, as did houses, highways, cars, and almost anything else that wasn't nailed down.
Driving from Brattleboro to Manchester included two detours, one around a washed-out bridge, the other a total back up, over the mountain and around to a different highway because the road isn't there anymore. It's very sad, but the tough-as-granite natives are already rebuilding.
And despite everything, both courses were in surprisingly good shape. As I wrote on the LINKS Magazine website a few weeks ago, Vermont is a great place to tee it up almost any time of year (excepting winter when skiing is the activity of choice). It's especially beautiful in the fall when the leaves turn color.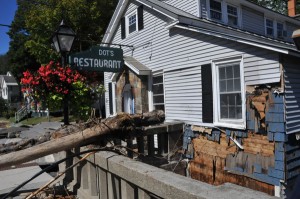 But the suffering inflicted by the storm has had another negative effect: Visitors are staying away, fearing the worst. And while it's true that a number of roads are still out, most hotels, inns, restaurants, and attractions are open or reopening. Manchester, a center for outlet shopping, was sadly quiet on Labor Day weekend, usually a busy time with people stocking up at the many back-to-school and end-of-summer sales. It's too early to tell what effects the storm will have on nature's autumnal color spectacle.
My advice? Make a few calls and check out the state tourism websites for road conditions and if you can, go. While it's like to be an unusually quiet fall in Vermont, those who make the trip will reap the rewards, including money-saving deals, well stocked store shelves, and lush fairways.
The state can use your help, and you'll have a terrific time. (Whenever you go, I highly recommend the lovely Inn at Manchester in the middle of town. Tell the owners, Julie and Frank, that I sent you.)