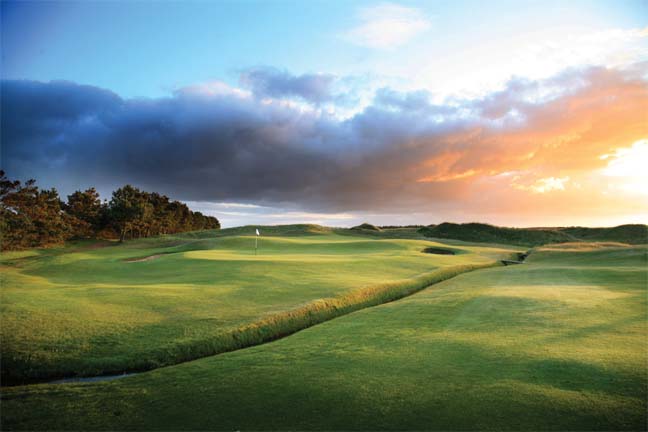 The list of great courses in Scotland is long: St. Andrews (of course), Muirfield, Carnoustie, Turnberry, Dornoch, North Berwick, Prestwick, etc. etc.
Allow me to add two more to any list registering in your head, places you really should play when you are next lucky enough to make it to the home of golf. Dundonald Links and Western Gailes. Much like the Machrihanish/Machrihanish Dunes tandem the Golf Road Warriors played a few days ago (although not nearly as close to each other), DL and WG show that there are outstanding new Scottish courses to try as well as lesser known old ones not to be missed.
Dundonald Links (above), on the Firth of Clyde, is about 30 miles southwest of Glasgow, very close to Troon and other notable layouts. It was designed by Kyle Phillips, who is also responsible for Kingsbarns near St. Andrews, another must-play modern layout. Phillips took the land that had been another course—Southern Gailes—and completely redid it, creating a true links course that looks and feels decades old but actually opened in 2003.
All this on land that was nearly pancake flat and sandwiched between an active railroad line and very unattractive paper mill. But the course is so good, moving in all directions so as to feel every possible wind, that any distractions are easily ignored. It's very simple—no big dunes or crazy shots—and very pure. As a result, Dundonald has hosted countless notable events including qualifying tournaments for the European Tour and Senior British Open.
If you hadn't heard of Dundonald before now that's because it's owned by the very private Loch Lomond Golf Club, which maintains it as a "city course," easily accessed from Glasgow. Still owned by Loch Lomond, DL is open to the public every day and very welcoming to visitors. It would be a great first course, right off a plane into Glasgow Airport, of an extended Scotland golf tour: Not on the water, it's still best played with a selection of links golf shots such as bump-and-runs and knockdowns into regular winds and big, undulating greens. There's an ample practice area as well as a simple clubhouse with changing rooms, pro shop, and restaurant. You're sure to enjoy it.
Just across the road from Dundonald Links sits Western Gailes (below), which has been a favorite of the golf cognoscenti for a long time. The course dates back to 1897, and while it might not have an exclusive architectural pedigree—as far as anyone can tell, it was originally laid out by the first greenkeeper, a Mr. Morris—it is a pure and perfect links course. As the very informative website says, "Initially the course was allowed to develop naturally from the terrain shaped by the ravages of nature."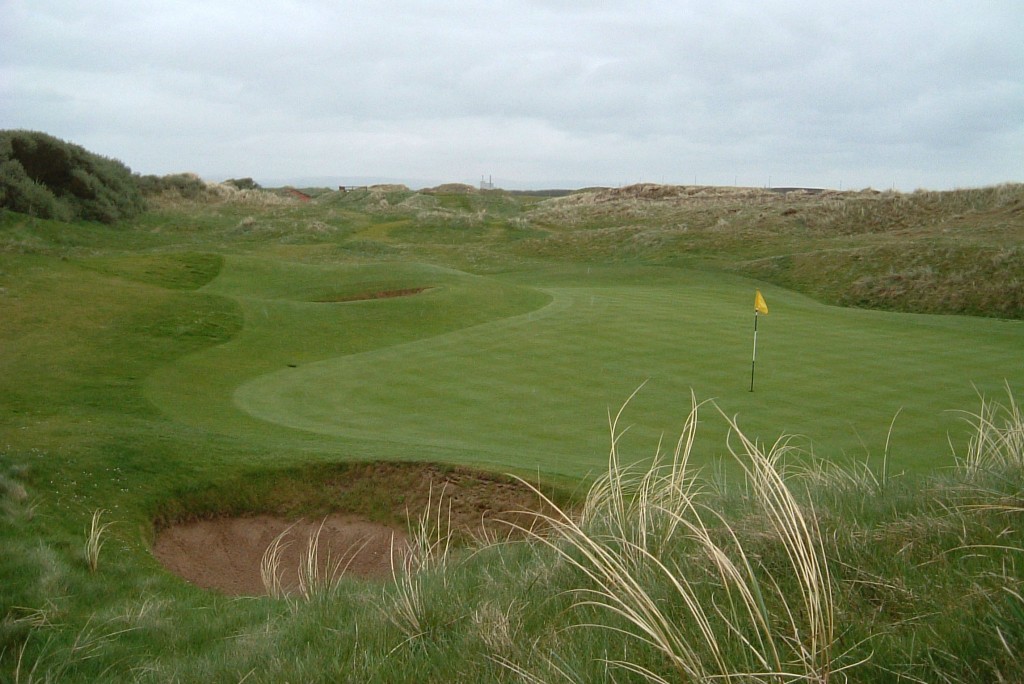 Stand on any of the holes, all with the Firth in view, and you truly understand the qualities of this kind of golf: rumpled turf with dunes of different sizes; low scrub and long grasses; a steady wind that can change from gentle breeze to howling gale (and drastically change direction) in a matter of minutes; and big, bouncy greens that are best approached with low running shots carefully calculated to follow the earth's contours.
Western Gailes has got it all, but because it has never hosted the big tournaments like Open Championships, it hasn't received the attention it deserves. Still, it recently held the Scottish Amateur and European Men's Amateur Team championship, and is a regular site for Open and Senior Open qualifying. It's that good. Maybe better. An incredible experience.
It's also a private club with a marvelous old clubhouse filled with memorabilia—maps, photographs, books, and trophies among them. Many days the members are on hand in jacket and tie for lunch or an event. Don't let the dress code scare you: They are proud to show off their club and course, tee it up with guests, and sit over a pint afterward and make new friends.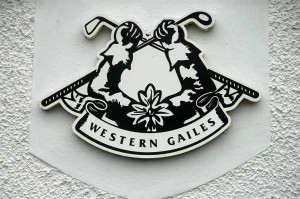 However, they are missing a golden opportunity: the shop is about the size of a broom closet with a limited offering of logoed merchandise. And you'll probably want something to remember your day at Western Gailes, so go for a hat or ball marker with the distinctive club logo, two hands gripping two clubs. Like the course itself, the logo is both powerful and cool, and not soon forgotten.
The Golf Road Warriors Scotland trip is winding up. If you've missed any of it, all our articles are on the website.