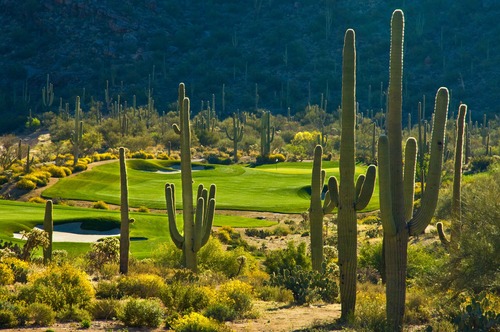 The newest longest course on the PGA Tour is one even amateurs will love
"Do you think they will like it?" asks Kenn Depew, General Manager of Club and Golf Operations at the not-yet-opened Ritz-Carlton Golf Club, Dove Mountain, located about 20 miles northwest of downtown Tucson, Arizona. "They" are the pros of the PGA Tour. "It" is the still-growing-in Tortolita course, which will make its debut as host to the world's best golfers at the Accenture Match Play Tournament the last week of February.
What's not to like? Jack Nicklaus designed the course—part of a 27-hole complex—with the tournament in mind, enticing the pros to attempt heroic (and potentially fatal) shotmaking when battling mano-a-mano as match-play demands. From the way-back tees, it will measure 7,800 yards, making it the longest course on tour; for the rest of us, there are four other sets of tees (and at 2,500 feet above sea level, subtract 5 percent of the yardage when figuring club selection). There are few blind shots, so the big, shapely fairway bunkers and other trouble are clearly in view. But surrounded by cactus and playing in and out of eerily silent canyons in the Tortolita ("little mountain dove") Mountains, all levels of golfers might find it hard to keep their minds—and their eyes—on the ball.
Where Jack really messes with the pros—and once they've gone, with the rest of us—is on the big, undulating greens. Good scores will hinge on hitting precise spots of the putting surfaces, then mastering breaks both super and subtle. Miss by too much and players will find themselves hanging precariously from sharply sloping chipping areas or deep in a bunker. Some holes are also guarded by natural desert washes: Jack cleverly incorporated the usually dry stream beds along and across fairways as well as in front of greens. And then there are the cacti—especially thousands of majestic, multi-armed saguaro—and other desert plants and creatures to watch out for should one stray from the wide Bermuda-grass landing areas.
A fourth nine will open in 2010, creating two 18-hole courses that will alternate daily for play by members and guests, the latter being those lucky enough to bunk at the Ritz-Carlton, opening next fall. Tucked into a box canyon, the hotel's 250 rooms, 24 casitas, 17,000-square-foot spa, pools (with a 235-foot-long waterslide), conference facilities, and three restaurants will be touch-me close to the mountains, which will be accessible from 20 miles of hiking trails (and, in time, on horseback).
Two thousand years ago, the Hohokam Indians inhabited these hills, and all efforts are being made to protect the petroglyphs and other remnants being uncovered during construction. The 850-acre resort will proudly showcase the area's Native-American heritage alongside its elegant 21st-century trappings. For those who want to call the mountains home, 325 Ritz-Carlton Residences will be available: Situated near the hotel, they won't interfere with the dramatic high Sonoran desert landscapes that extend for miles around and serve up some of the most beautiful on-course viewing anywhere.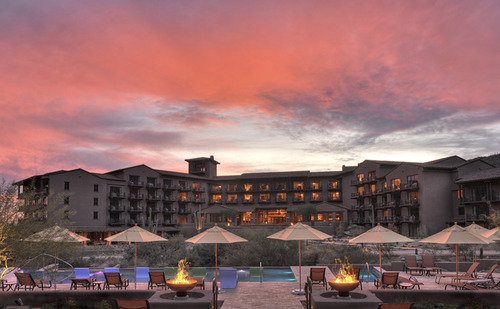 For more information, contact the Ritz-Carlton Golf Club, Dove Mountain, 888-603-7600. Or go online to: www.dovemountain.com/ritz/
An edited version of this story ran in the November, 2008, edition of Robb Report. The hotel, as shown here, opened in December, 2009.