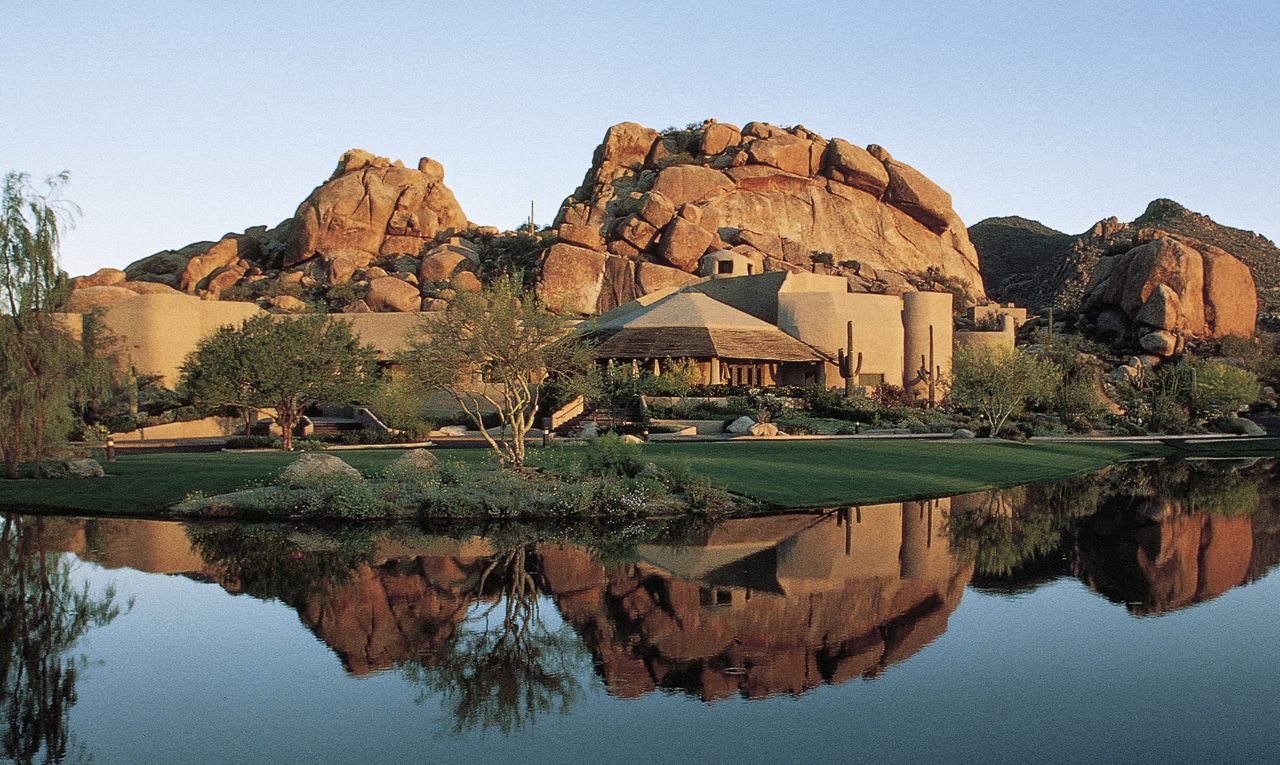 (Sorry I haven't posted in a few days, but I've been on the road, playing some great places and testing some new equipment. The results of my "labors" will be posted on this site soon, beginning with this article.)
This has been a tough year for golf resorts. Fewer players, fewer visitors, and fewer corporate retreats have forced some of the country's leading high-end rooms-and-rounds palaces to lower quality as well as prices. And like aging movie stars resorting to plastic surgery, the cuts are hard to hide.
How gratifying—and faith-restoring—to spend some time at The Boulders, in Carefree, Arizona, north of Phoenix. If the economy is grinding against this 1,300-acre desert paradise, it is showing no sign of erosion. I'm a little embarrassed to say that having been in the golf business for nearly 30 years, I just got to The Boulders for the first time last week. I'm kicking myself for having waited so long.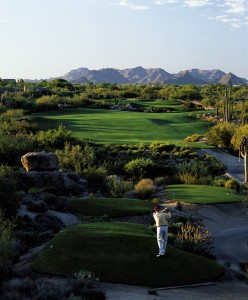 The two Jay Morrish-designed golf courses—North and South—are among the best I've seen in the desert. I'd rate the North slightly more difficult and strategic, the South slightly prettier since it showcases more of the gigantic rock pilings that give the resort its name. Much is made of the fifth hole on South, an angling par-five that narrows as it nears the green, which sits in the shadow of a big rock edifice next to the hotel's entrance. But there are many dramatic and diverting holes on both courses, featuring giant saguaro cacti, abundant wildlife, and clothes-snagging brush and pebbly sand just inches off the fairways. Both courses have plenty of grass—you won't be playing pod-to-pod—but trouble is never far away.
The golf operation has all you need—rental clubs and shoes, well-stocked pro shop, big driving range—along with some top-notch teachers, led by Donald Crawley. The Boulders Golf Academy offers numerous instruction packages, including Crawley's "Golf Simplified" programs and classes for women only. There's also a two-night package with two rounds plus club-fitting from the nearby Hot Stix Performance Center.
Away from golf are many other amenities—tennis, rock climbing, hot-air ballooning, desert jeep tours, horseback riding. My idea of adventure is the Golden Door Spa, which offers massage, wraps, scrubs, facials, a fitness center, sauna, steam, etc. My therapist extolled the virtues of something called Watsu, which is pressure-point massage and rhythmic movements done in the spa's private pool. I was perfectly content to have my golf-afflicted muscles worked over on a massage table, indoors, but maybe next time.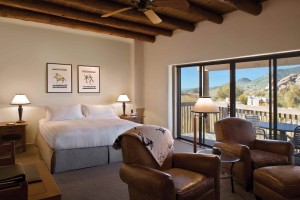 There are 160 casitas and 61 villas (one, two, and three bedrooms), decorated with the colors and sensibilities of the desert: rough-hewn wood, Native American artifacts and design, tile and stone, but also flat-screen TV, gas fireplace, and premium sound system. The larger Pueblo Villas and Haciendas, all recently renovated, provide a private-home experience on the resort property with kitchens, laundry, and parking.
Of the seven restaurants, I sampled at the extremes. The recently reopened Latilla prepares "new American fare" with a strong hint of the Southwest. I strongly recommend the buffalo (think very lean steak), although I almost went with the elk. Really. There's also a wide variety of fish, which comes in daily from Los Angeles. Bogeys, the very casual restaurant at the golf club, serves terrific quesadillas, burgers, and the like.
I apologize in advance because what follows is a terribly overused cliché. But in this case it's true: Having waited almost 30 years to visit The Boulders for the first time, I promise it won't be that long before I get back. For prices (the seasons are about to shift, so rates will, too) and other information, check out the resort website.