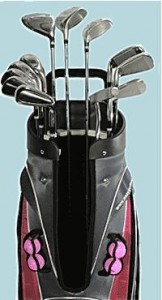 Besides the big companies that exhibit at the PGA Merchandise Show, there are always the little booths of industry newcomers and passionate inventors hoping to get their products noticed. Most of their brainchildren can be categorized as somewhere between silly and stupid, but there are always a few worth mentioning and then watching to see if they catch on. I hope to find a few over the next two days as clever as The Eazy Bag, a golf bag aimed at women, seniors, and others who find it difficult or uncomfortable to remove their clubs from the normal cart bag. It's a smart solution for golfers with minor physical ailments in arms, shoulders, and hands that make manipulating clubs and bag a pain.
The secret to The Eazy Bag is a slot that runs about half the height of the bag from the top down (as shown, left). Rather than lifting a club out through the top, this slot allows a club to be removed through the side of the bag, accommodating anyone who isn't tall or strong enough to lift a 36- to 43-inch metal rod high in the air.
There's also a rubberized gasket that secures the clubs in place so they don't bang against one another (eliminating the need for headcovers), as well as a handle and wheels that make transporting and lifting the bag–either onto the cart or into a car after the round–simple. And while there are no shoulder straps (this is not a bag for walkers), there are two short straps that secure the bag on the cart so it doesn't shift, twist, or fall while scooting around the course.
Right now there are four models available, two for women and two for men, and they won't be available until the end of March, when the cost will be $200. For the moment, The Eazy Bag can only be viewed and ordered on the website, but I'd be surprised if it doesn't get picked up by numerous golf shops soon. Because it's a good idea.