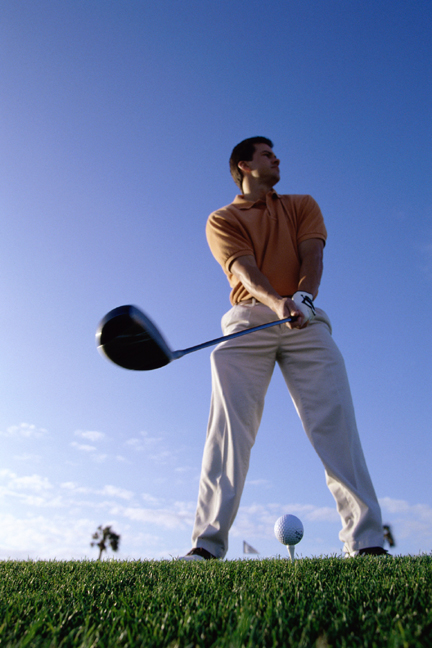 At last, the golf season is in full swing. You've probably already played a few rounds—maybe more than a few—and noticed some tendencies in your scores and your performance. Now it's time to ask a very important question:
Is your equipment helping you play better or holding you back?
Start on the tee. If your driver is more than a few years old, its design could be costing you distance, accuracy, and consistency. But even the hot new driver won't bring real improvement if it doesn't fit your swing.
"With the driver, I look first at the shaft flex, then the loft of the clubhead," says Rob Pascarelli, a PGA professional in the Golf Galaxy store in Christina, Delaware. "Many golfers are using a shaft that's too stiff and a clubhead without enough loft. That forces them to hit down on the ball to get it up in the air when you really want to be hitting up on the ball with the driver."
Proper fitting is just as important with the putter, the club that accounts for 40% of the average golfer's shots.
"Too many golfers adjust their set-up to the putter rather than the other way around," explains Mike Kohn, a teaching pro in the Towson, Maryland, Golf Galaxy. "As a result, they're not even close to having their eyes over the ball and the line, and their hands aren't under the shoulders."
Grip size also can affect putting prowess because the stroke gets too "handsy" if the grip is too small. Oversized putter grips are the rage on the PGA Tour right now, with players like Jim Furyk and KJ Choi wielding extra-large grips in an attempt to take the hands out of the stroke and use the big muscles, instead.
There are dozens of new putters available now, with exciting designs from perennial powerhouses like Odyssey, Ping, and Taylor Made. But whatever putter catches your eye, don't buy it without undergoing a free fitting session to match that magic wand to you, not the other way round.
Another club often overlooked when it comes time for fine-tuning is the wedge, or more accurately, wedges. Nearly every set of irons comes with a pitching wedge, but many golfers are confused about which other wedges—how many and with what specifications—they need. As a result, if you do have other wedges in your arsenal, they may not be well-suited to the way you play.
And be careful not to be influenced by what you see on TV. "Golfers watch Phil Mickelson hit a wedge shot straight up in the air," says Kohn, "but most real people can't control a 64-degree wedge. Maybe the average guy can hit a 60-degree wedge, but even that depends on his skill level."
Bring all your wedges to your favorite pro and discuss the conditions you usually face and your comfort level with short shots. Luckily, there are so many different wedges, with so many different combinations of specs, you're sure to find the right collection of clubs for where and how you play.
Still carrying hard-to-hit long irons? Now might be the time to get rid of them, putting a few hybrids in your bag instead. A few years ago, when they first came on the scene, hybrids were almost exclusively for higher-handicap players who needed help getting the ball in the air. Not any longer. In fact, more and more hybrids are showing up on Tour. And no matter what your skill level, hybrids can be customized to blend seamlessly into your bag, not only taking over for long irons but filling in for fairway woods, too.
Consider raising the level of your game with a new ball. Advances in aerodynamics, materials, and design mean that whatever you're working on—control, distance, touch, launch angle, workability, or any combination—there are many different balls to give your game a boost.
Finally, a host of other products can lift to your spirits as well as your performance. Golf bags keep getting lighter, and come with a choice of straps, compartments, and other features to suit walkers and riders. Shoes can add immeasurably to your performance by keeping your feet comfortable, dry, and stylish. Even glove technology has improved, incorporating new materials that keep hands drier, cooler, even pain-free. And if you haven't tried a GPS Rangefinder, which provides pinpoint distance calculations, you're missing out on the ultimate in high-tech wizardry.
An edited version of this article originally appeared in "Tee Time," published by Golf Galaxy.