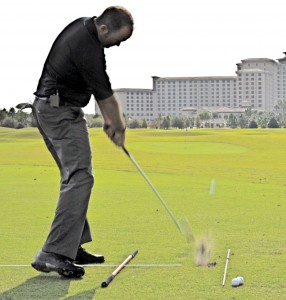 Back when Brian Benedictson started playing the Canadian Tour in 2007, he'd travel with an arsenal of training aids, different ones for full swing, putting, and fitness work-outs. Weighed down with his many tools, Benedictson—who has a Bachelor of Science in Construction Management—put his mind to the problem and found a way to combine all the devices in one product.
And so the Swinkey was born.
Now referred to as the "Swiss Army Knife of golf training aids," the Swinkey is a long metal tube that stores stainless-steel spikes inside. With the stakes in, out, and fitted into the ground or the tube, Swinkey can perform the tasks of five (at least) tools.
It's a system for working on set-up (left), from forming a "T" on the ground to establish ball position to using the spikes to check swing plane and alignment.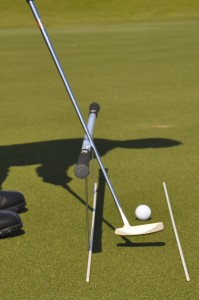 Insert the spikes into the side of the tube and stick the whole thing in the ground and it becomes a putting stroke trainer (right).
The Swinkey has a golf grip at either end allowing it to work as a stretching aid (below); some 40 stretching and strength-training exercises are on the company website and blog. It also works as a warm-up aid before playing.
Leave the spikes in the tube and it's an adjustable weighted swing trainer.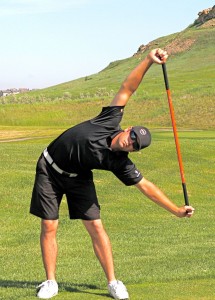 Finally, at 48 inches long, placing the Swinkey inside a golf bag helps protect the clubs (especially the driver) from damage when traveling.
But that's not all: There's a camera mount at one end so it can function as a monopod for helping take swing sequences or shooting foursome photos. An elastic string is included for use to help with eye alignment when practicing putting.
Chances are golfers are finding other uses, as well, which is why the website and blog are updated regularly. There's even a special YouTube Channel for helping users get the most out of the device.
The Swinkey, which comes in a choice of 10 colors, is available for $99.99 (with free shipping) online. You're sure to find a use for it—maybe even a new one. If so, Brian wants to hear from you.