It happens every year: I'm never as tired as I am after walking the floor of the PGA Show. Today was the first day of the show having moved indoors, into the way too spacious Orange County Convention Center in Orlando. There are thousands of exhibitors, from the major golf club manufacturers to tiny start-ups hoping to make a go of it with something clever and exciting. It would be easy to spend a week or more talking to everyone with a story to tell: Two and a half days will have to be enough.
A few new things caught my eye today, and here's a fast look at three of them.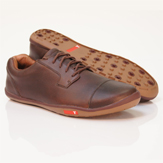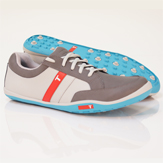 TRUE Linkswear. I can't wait to try these shoes on the course, having slipped on a pair and walked around the booth of this company committed to making shoes that are comfortable and promote a better game. A wee bit funky looking and worn by PGA Tour pro Ryan Moore (who is also known for sporting cardigan sweaters and ties with his golf shirts), TRUE Linkswear shoes let your feet feel the ground. Referred to as a "slipper with traction," they are wide and soft like the best bedroom slippers, and very low to the ground. I'm especially fond of the wide toe box (having rather long and large feet, as I'm written before): Just walking in the booth I could tell my feet will be secure yet comfortable, with no squeezing of the sides. Here are two models, the Stealth (left) and the phx (right), which like all their shoes have leather uppers (models are waterproof or water resistant), a flexible rubber sole, ergo-fit insole, and the company's proprietary "TRUE barefoot" platform. Women's models are also available, with pricing from about $100-$200 a pair. Truelinkswear.com.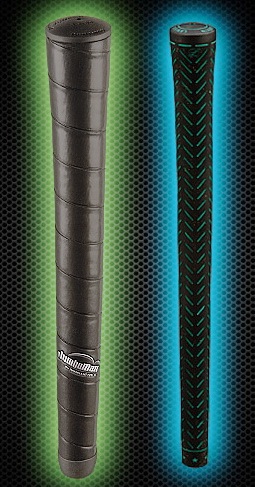 JumboMax Grips. I'd always heard that playing with overly large grips restricts the player's hand rotation, leading to slicing. Not so, according to JumboMax, which makes grips for all clubs that are significantly larger than standard (just look at the photograph for a comparison). Again, I haven't had a chance to try them on the course, but some practice swings in the booth reveal that the hands aren't stopped from rotating; in fact, just the opposite as the hands feel more natural and relaxed. The larger size means more of the hands actually is on the grip, and relaxed hands are less tense, which means more speed and distance. Company tests say the JumboMax generates 38% more turning power, actually increasing consistency and accuracy. It's a good story, one that I look forward to testing for myself. JumboMax.com.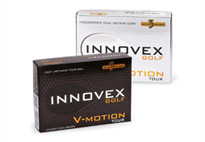 Innovex Golf Balls. Here is a product I did try on the course, new golf balls from Innovex. The V-Motion is a Tour-quality, urethane ball that is being compared to Titleist's Pro-V1 ball for its high spin and feel. However unlike the bigger-name balls, the cost is only $32.95 a dozen. The E-Motion is a three-piece ball designed to fly farther, spin faster, and feel softer than comparable balls, and costs only about $20 a dozen. I preferred the E-Motion (I saw a little more distance and preferred the feel even if it was a little harder than the other ball), but at those prices it's easy—and smart—to compare for yourself. Both balls also come with a money-back guarantee. Innovexgolf.com.