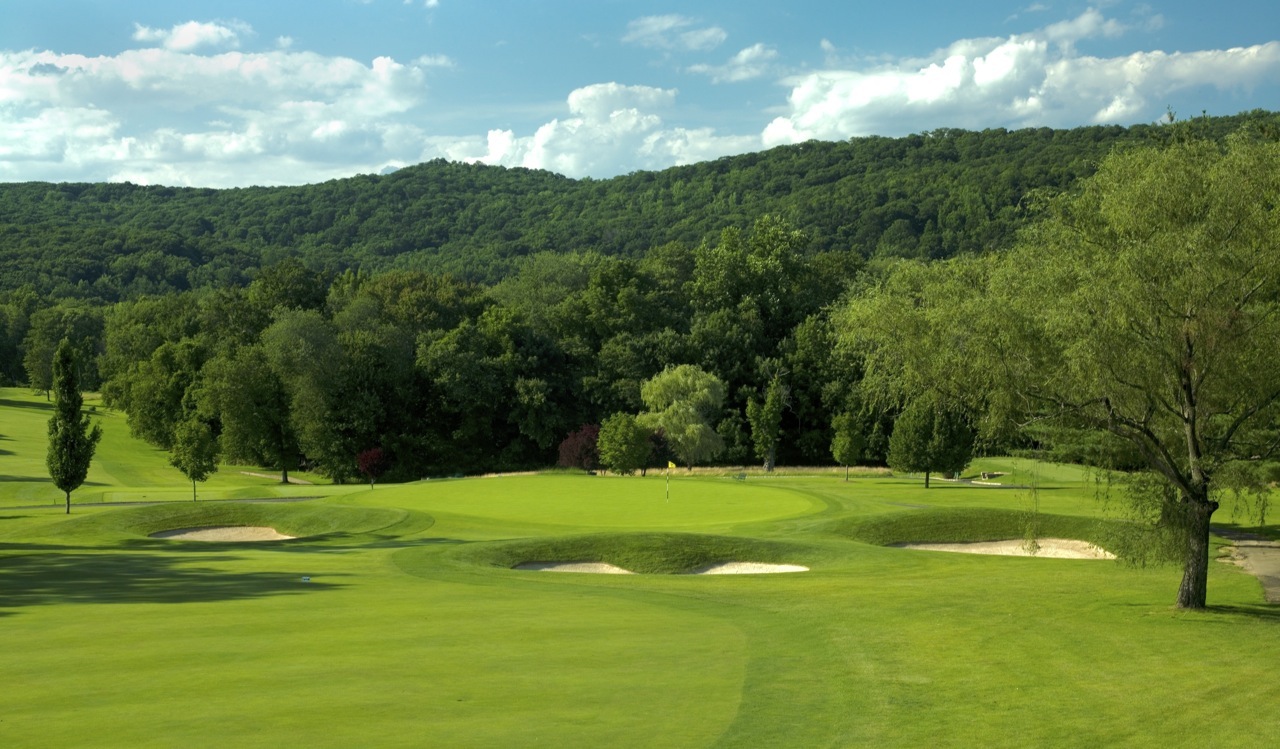 "Championship golf course." "Game improvement." "Winter Rules." Those are three of the many golf terms regularly misunderstood or misused. (What is a "championship golf course," anyway?)
Let me add another one: Hidden Gem.
Whenever someone talks or writes about a hidden gem, it's usually a golf course that's been all but forgotten (if it was ever remembered), now overgrown and rundown, that someone is hoping to sell.
But every once in a while, a true hidden gem is uncovered, a course that's been hiding in plain sight ignored and underappreciated. I think I've found one.
About half an hour north of New York City, on the other (western) side of the Hudson River in New York's Rockland County, sits a private club that until recently was called Dellwood. The property used to be owned by Adolph Zukor, who rose from poor Hungarian immigrant to founder of Paramount Pictures.
After buying the property in 1918, Zukor named it Mountain View Farm as the land rolled over several hundred acres and featured broad views of the Ramapo Mountains and the Palisades. Although he couldn't see the river, Zukor may have escaped Manhattan by sailing up the Hudson to a nearby dock.
Among the buildings Zukor added was a small movie theater where he held private screenings. He threw lavish parties and entertained many stars of the day, from Charlie Chaplin to Mae West. Thomas Alva Edison was not only a close friend but he introduced Zukor to A.W. Tillinghast, who the golf-mad movie mogul hired to turn a nine-holer on the property into an 18-hole layout. (That's the current 8th hole, above.)
The Depression hit Zukor hard and he eventually had to sell the estate. The history gets somewhat murky, but by 1948 the course was part of Dellwood Country Club. In 2009, private investors from New Jersey purchased the club from the members and launched a new set of changes that include a new name, Paramount Country Club.
Besides the $5 million already put into the facilities—including the stone clubhouse that was Zukor's home, other stone buildings, more than a dozen tennis courts, a swimming pool, dining facilities, playground, even a mini-golf layout—another million or so will go into bringing the golf course back to the way Tillinghast designed it. Doing the work will be architect Jim Urbina, the man most responsible for Old Macdonald, the terrific tribute to C.B. Macdonald that opened last year at Oregon's Bandon Dunes.
For the sake of editorial honesty, let me note that I'm helping the club with public relations. One of my first tasks was to talk to Urbina—who worked on San Francisco Golf Club, another Tillinghast gem (but hardly hidden), a few years ago—and get a general sense for what he'll be doing.
"Over time, courses tend to mature and choke," Urbina said. "Everything gets smaller. Using aerial photographs and whatever I can attain, I'm going to bring back the expanse to this property, enlarging the greens, bunkers, tees, and fairways. And I also want to return the broad views that Zukor saw when he first bought the property.
"When I started my research, this course wasn't even listed in The Golf Course by Cornish and Whitten. I thought this wasn't really a Tillinghast course. But when I visited, I saw it had a number of things I was familiar with from working at San Francisco Golf Club, notably the green styles and how they were set. Somebody had a 1933 scorecard and the par threes caught me by surprise: There was everything from a short par-three of 125 yards to a very long one of 235! And the second hole measured almost 600 yards, what Tillinghast called 'a real three-shot hole.' At the time, this was very serious golf.
"Talk about a hidden gem! As I did more and more research I found a golf course that could open some people's eyes."
There are a number of other interesting architectural elements on the course that Urbina will restore and update. He begins soon, with the work likely lasting well into 2012. I'll continue to post updates on the progress.