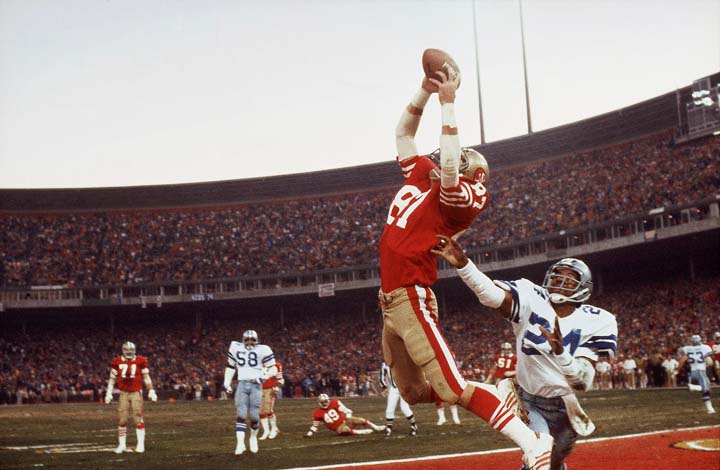 If you're a sports fan, you are familiar with the photographs of Walter Iooss and Neil Leifer. Even if you don't know them by name, you've seen their work in Sports Illustrated, Golf Digest, Time, and countless other magazines, books, and ads over the years. Both started taking photographs as teenagers back in the 1960s, and their friendship/rivalry over the decades pushed them to become the best in the business.
Through March 7, a monumental show of their work called Sport: Iooss & Leifer is on display at the Annenberg Space for Photography in Los Angeles. The 82 images are breathtaking, and include many that changed the way we look at sports and the athletes who play them. Among the best known are numerous Leifer photographs of Muhammad Ali over the years and Iooss's portraits of Michael Jordan, Tom Brady, and other stars. Also in the show is Iooss' iconic photograph of "The Catch"—San Francisco 49er Dwight Clark's touchdown reception during the NFC Championship game in 1982 (above).
All the images are available for viewing online, which is nice but doesn't do them justice. They really need to be seen in person and super-sized; the year-old Annenberg Space is outfitted with state-of-the-art digital projectors and wonderfully large prints. There are plans to take the show to leading museums and galleries around the country, possibly even the National Portrait Gallery. (I'll post updates of the travel schedule as I get them.)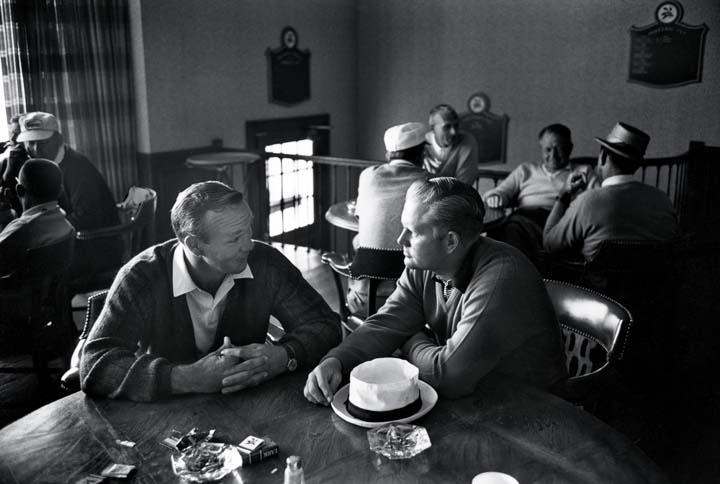 Arnold Palmer and Jack Nicklaus, Laurel Valley Country Club, 1965
In the meantime, check out the website, which besides featuring the photographs has interviews with the photographers, some of the subjects, and more. Limited-edition prints of the photographs also are available, as are signed books and other exhibit-related goods. And there's a great video clip.
I spoke with Iooss on the phone about his work and the exhibit in Los Angeles. (There is also a year-long show of his photographs currently on display at the Newseum in Washington, DC.) A captivating storyteller with words as well as pictures, he has seen both the games we play and the way we record them change over the last 50 years. These days, he spends a lot of time thinking about golf, both as a struggling player—he describes the game as "diabolical"—and as Photographer-At-Large for Golf Digest. He lives in New York but is currently in Florida, and while there his calendar is full: He'll soon be shooting an instruction story with teacher Jim McLean, then it's off to the Pro Bowl and Super Bowl for Sports Illustrated. But as soon as we were done talking, he was heading to the course to play.
When did you start photographing golf?
I started in the 1960s. There were interesting players like Chi Chi [Rodriguez] and Tommy Bolt, they added so much to what you shot. But shooting Arnold in his heyday? It was a glorious ride.
Arnold was the quintessential man's man, and woman's man, like a George Clooney. Everyone loved him. He wore every emotion on his face. Today, people forget what he did, how great he was to watch. He did so much for golf with his charisma, personality, and kindness. He's up there in my top five athletes in any sport.
I also loved following Lee Trevino, the funniest man I ever met in sports. He was a stand-up comedian for 18 holes.
Has your view of the game changed now that you play it?
I think I knew enough about the game to know why they were doing things, but I didn't understand how difficult it was to do what they were doing. I covered a lot of tournaments about five years ago after I started to play: I'd see the positions they were in—the lies, the bunkers—and think to myself, "holy shit."
I'm obsessed with golf now. I wish I were 30 years younger.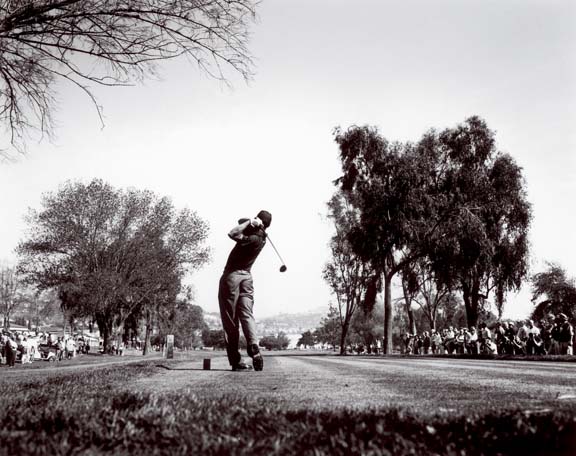 Tiger Woods, La Costa, 2000
What advice can you give someone taking photographs during a tournament practice round?
Go out in the afternoon when the light is good. During the middle of the day everyone has hats on, the light is terrible, the backgrounds look terrible, there's no light on the players' faces. It's one of the cardinal rules of photography: Go out either really early or late in the day, the last couple of hours.
Get as close as you can. With the new digital cameras, there's no noise when the shutter goes off so you can shoot at any point in the swing. It's the noise that bothers golfers, that and the big lenses, the distraction of people behind them, in their sight lines.
Has the new camera equipment changed things?
It's not the gear, it's your eye, your head, and your heart. It doesn't matter if it's film or digital, it's what's within the parameters of the frame you shoot.
But speaking of digital, now that everyone in the world has a camera, how come there haven't been any UFO sightings? That's my dream picture, looking through a long lens into the cockpit of a UFO.
There's much more from Iooss and Leifer at http://www.annenbergspaceforphotography.org/
Photographs courtesy of Walter Iooss and the Annenberg Space for Photography.