What better way to spend January 1 than strolling along a golf course by the sea?  This is true even though the "sea" was Long Island Sound, and the Fahrenheit temperature wasn't so much higher than my handicap.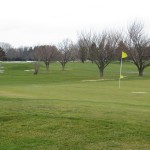 Islands End Golf & Country Club in Greenport, New York, predates the proliferation of wineries on Long Island's North Fork, having opened in 1962 when potatoes were the main crop in the area.  It is surely a pleasant golf course under benign circumstances, with the era's typical landing-strip tee boxes and pinched-up greens.
The course heads out from Route 25 in two loops that run towards the water before turning back to the clubhouse.  Superintendent Ray Viera was no doubt puzzled to see intrepid walkers on his course on New Year's — though no more surprised than those walkers were to find him working on the morning of 2013's first day.  The flagsticks were in their holes despite the light frost on some greens, and the pull-carts were lined up waiting for someone to take them on their appointed rounds.

He told us to check out the 16th, a 210-yard par-three that runs along the shoreline.  The tee shot presents a stout challenge, even when the day's clothing permits a shoulder turn, as this day's did not (see below).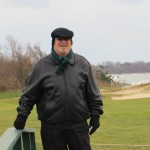 A shoulder of fringe will help bump a ball away from the bunkers on the right; the real hazard, right of the fence, is obvious.  (In January, at least, a friendly four-club gale helps blow all but the most determined slice away from Connecticut and back into play.)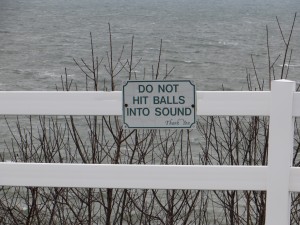 We took heed of the admonition not to feed the fishes (left).  The brisk tailwind made easy work of the inward walk, and soon we were in Greenport proper, warming our hands on a cup o' joe.  One course visited in 2013.  Who knows how many yet to come?