PURE SOLID PERFECT – THE LITTLE ONE
"Changing The Way The World Plays Golf"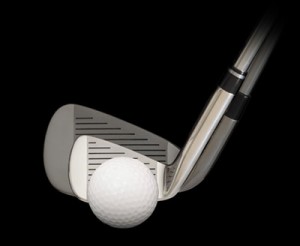 Wednesday, Jan 25th, 2011, was the outdoor Demo Day at the  PGA Merchandise Show. Hundreds of exhibitors ringed the circumference Orange Country National's gigantic circular practice range. In brilliant sunshine, with thousands of beautifully colored banners fluttering in the strong breeze, the festive atmosphere set the tone as I set out to discover and explore all the innovative new products, innovations, and surprises displayed. All the top club makers were out in full force with impressive displays (especially Taylor Made and their free food court, Cobra with their bubble cube and live DJ, Callaway & Nike's impressive new high-end gear, and apparel, and of course Ping – whose superb layout and presentation would make a classical Feng Shui master blush). But for me, the true stars of this first day of the show, were three brilliant golf innovations: (1) Pure Solid Perfect (The Little One) – a weighted training club  with the loft of a 7 iron and a clubhead slightly larger than a golf ball; and  (2) JumboMax – a new jumbo golf grip that may well revolutionize the way the game is played and bring joy to millions: and (3) Energy Care whose silicon sports bands, health bands, power caps, energy cards (for supercharging water) and dream pillows utilize a Tesla-based nano technology to improve a golfer's balance, strength, flexibility, and endurance. EnergyCare – which facilitates absorption of light and energy into the body at sub-atomic levels – is by far the best of dozens of performance enhancing energy wear at the show featuring either copper, titanium, magnetic, ionic, or holographic mylar technology . Exploring EnergyCare and other next generation technologies will require a series of articles on high energy physics and its effect upon the human body/consciousness. As time is short  I will present only one product in this post. Reviews on the others will be posted soon.
I discovered my favorite of Demo Day, the PSP Golf's first game improvement golf club aptly named "The Little One", while speaking with Mr.Kendall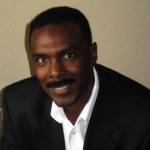 Thomas, noted motivational speaker, author, and former PGA head pro in Scottsdale, who is now the Director of Demo and Trade Shows for PSP Golf. While he polished off the last of his french fries (I had approached him at the food court) he recounted how one afternoon a few years ago a man came into his golf shop with the prototype of 'The Little One' to have a grip put on. He had never seen such a small headed club and was intrigued. The inventor allowed Kendall's assistant pros to try it out and they all raved about its ability to give instant feedback of clubface awareness,improve their tempo, heighten their concentration, and instill pure ball striking. And all of his assistant pros confirmed that practicing with this revolutionary new golf training aid elevated their confidence…with inevitably elevated their confidence which resulted in lower scores. After Kendall tried it for himself, (in the presence of the inventor) and striped the first seven shots 170 yards like a laser to the target, he was offered a job with the company. Which he declined. After two more offers, Mr. Thomas finally relented and agreed to become a vital part of PSP Golf and play an integral part in their dynamic growth and extraordinary success.
To paraphrase their website to how and why 'The Little One' works. "Our brain and nervous system are pattern generators. The PSP Training golf club has a smaller surface area to train your brain to hit the golf ball. Through repetition and increased concentration with a smaller clubface, the golfer fine tunes the contact point to a smaller area. Therefore, when the golfer transitions back to the larger clubface, the contact point is more concentrated towards the pure, solid, and perfect spot on the club face. The results are increased club head awareness, better contact, slower swing rhythm and improved consistency overall, that leads to lower golf scores."
Its been well over a year since I retired from golf (after the most spectacular round in my life) and touched a club, much less hit any shots. So when I took a few practice swings with this perfectly weighted, yet diminutive club, the decades of golf training in my muscle memory immediately kicked in. As I stood at address and placed the 'Little One' behind the ball for my first shot since Nov 2009, I must admit, the clubhead looked barely larger than the ball. The immediate effect of this was to tighten my  visual focus and center me even more tightly energetically on the task at hand. My first shot pulled left, my second was blocked right, but after that, my tempo slowed down and I found the groove and hit the next three shots pure, high, far, and straight. After such a long break from any kind of golf, my brief but throughly rewarding experience with PSP rekindled great memories, and left me tingling with energy. As I have learned the virtues of quitting while I am ahead, I handed this superb trainer back to Kendall with, as the 'Prophet' Khalil Gilbran might say; "A song of praise in my heart, and a smile of gratitude upon my lips".
To learn more and get one for yourself please visit: www.pspgolf.net