Martha's Vineyard, the island four miles off the coast of Massachusetts, is a tony summer resort frequented by writers, entertainers, tycoons, and Democratic presidents.  However,  I can  report that ordinary folk — like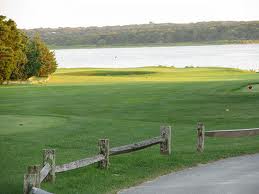 yours truly — can visit the island without being in any way  inconvenienced by these people.
Actually, I was once delayed for about five minutes by President Clinton.   I was walking my dog along the sandy road that cuts right through the second hole of Mink Meadows, a fun little nine-holer, when a guy in dark glasses and a white shirt drifted out the pines.  If you've ever wondered what the Secret Service do when a president plays, that's the answer — they cruise along through the trees.   He asked me politely to let the president play through.   I was close enough to the second tee to watch Clinton hit his drive, a high flare to the right.  I was tempted to shout "chicken wing!" but didn't feel I knew him well enough to needle him.
I believe Clinton played most of his Vineyard golf at Farm Neck, a semi-private club that is open to all registered voters (Obama seems to prefer the Vineyard Golf Club, a seriously private club with an inland course noted for its environmentally correct maintenance.)  During the summer tee-times at Farm Neck are limited, and the key to securing a tee time is the same as at any enormously popular course that is open to the public — persistence.  Keep at it.  Or if you really want to play this gem of a seaside track, go to the Vineyard in the spring or fall when it's easier to get on.  The greens fee is lower, too.
Farm Neck is understated, unpretentious, and — you might think at first — undersized.  The gravel parking lot is shady and unobtrusive.  The pro shop is small.  There's a tiny cart turn-around in front of the pro shop  and the clubhouse,  a few paces away, looks like a comfortable porch.  Flowering vines climb the walls of the shingled buildings, and there are more shade trees, and everything  — if you are used to gargantuan clubhouses and all the hoo-ha surrounding them — is unfussy.  All the simplicity money can buy.
The staff is polite in a no-nonsense, Yankee sort of way.  When you pay the green fee, they hand you a little folder adorned with etchings of old golf scenes   Inside, there's a packet containing gray tees, ball markers, and a divot repair tool.   Printed on the folder are illustrations showing the proper way to repair a ball ball mark.  On the back of the folder are these words:  "Our Goal Is FOUR HOUR GOLF," followed by a firm explanation of the policy that will be enforced by the rangers:  "The rangers will ask slow players to skip open holes."
Music to my ears.  The whole atmosphere of the Farm Neck — with the short game practice area across the way, the practice tee right down the gentle slope, and tennis courts half-hidden by plantings — suggests a club that is low-key but nevertheless serious about the quality of its sport.  If you take a cart (it's an easy walk), your bags will be loaded without fuss or obsequiousness or forced questions from a kid who's sizing you up for a tip.  You will be aware of a starter in the vicinity of the first tee, but he won't say much unless you're late.  On the cart, an unobtrusive overhead sign reminds you that you are expected to keep pace and to stay out of designated environmental areas.
In short, you are treated like someone who's played golf before.  You're expected to behave like a golfer.
Farm Neck is one of many "necks" on The Vineyard, small peninsulas that jut out into the saltwater ponds that are scattered about the island.  These ponds have a lot to do with the unique look and feel of Martha's vineyard;  they make for  juxtapositions of small and large bodies of water, a sense both of intimacy and expansiveness.  While playing Farm Neck, you are likely to see kayakers paddling smoothly across Sengekontacket Pond and, in the distance, tall-masted yachts under full sail on a sea lacy with whitecaps.   With the pond in the foreground, and the narrow line of dunes marking the boundary of the open sea, this is a landscape charged with contrast and movement, a landscape that Breughel would have loved.
The course, a Geoff Cornish design, was routed to provide panoramic views on both the front and back nines, and the inland holes have their own charms.   They certainly have their own flora and fauna — salt marshes chock full of bayberry and wild roses, brackish ponds that provide cruising grounds for ill-tempered swans, a few sandy stretches of scrub oak and pitch pine.
If you can keep your ball out of the pines, the ponds, and the marshes, you can score well at Farm Neck.   The course is only 6300 yards from the blue markers (6815 from the tips), and the longest par 4 is No. 16, 388 yards.   The longest par 5, No. 18, is 523 yards.  Those who stay out of trouble will be hitting short irons and wedges to many greens.
A major "if."  There should be a recording of the Siren's Song on just about every tee at Farm Neck, that song of hard-to-resist temptation.   For instance, a drive that cuts the corner on the 13th leaves a tiny pitch to an elevated green; a drive that strays just a tad left to the right is in a thicket of pines.  The safe play is a fairway wood to the  left.  And the risky play, for the long hitter, is to fly it right over the pines.  The green is completely hidden but only about 250 yards as the tern flies.  (The 13th, in fact, is a lot like the 15th hole at Celtic Manor, a dogleg right where the Ryder Cup players completely ignored the safe option, firing away at the green through a notch in the trees.)
Farm Neck has a fine mix of holes.  It's one of those rare course where you can remember every hole after a single round. Here are a few of my favorites: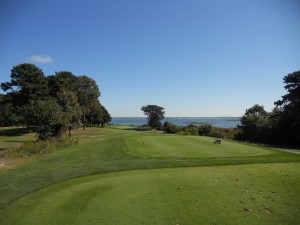 The par 3 4th, 157 yards  is a first cousin to No. 7 at Pebble Beach.  The family resemblance is unmistakable.  Both are short par 3's that play right out toward an ocean.  The 4th at Farm neck doesn't have waves crashing on the rocks below the green, but it plays into the prevailing and it demands a truly struck iron shot to find and hold this slender green.
No. 8.  Par 5, 486 yards.   The drive is across a salt marsh; lose it right and you might be playing from a lie of clam shells along the edge of Sengekontacket Pond.   This hole is the most exposed on the course and usually plays straightt into a headwind.   The marsh wraps around the back of the green.   Play this hole in par and you'll feel worthy.
No 12.  Par 4, 379 yards.  This is a love-hate hole.  You love it because of its challenge, hate it because it usually gets the best of you.   Very tough driving hole unless you have a precise and dependable fade.  Otherwise, you lay up with a fairway wood or rescue club, leaving yourself an approach over a pond to a tiered green.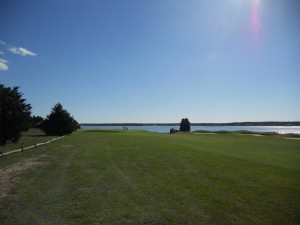 No. 14.  Par 4, 351 yards.  Even a sorta-big hitter can drive this hole with a tailwind.   The green sits right on the water, and after you hole out on a glorious day, you might want to linger  and indulge in a real estate fantasy, imagining how sweet it would be to live in one of the waterfront houses that are visible.
No. 18.  Par 5, 523 yards.  If you can figure out how to play this dogleg right, please send me the secret.   The drive is where I come to grief.  There's OB right, behind a wooden rail fence.  Pull it left and you're in the marsh.   Unless it's faded, a drive will run through the fairway.   A rescue club doesn't get you far enough down the fairway.   I guess it's a great finishing hole, if by "great" you mean one that can ruin a scorecard.
My fondness for Farm Neck has grown over the three decades that I've been playing there (averaging perhaps five rounds a decade).   My respect has grown, too, since Farm Neck has continued to make small, sensible improvements means to improve playability (cleaning out gnarly rough close to a few greens) and to add to the shotmaking possibilities (tidying up a dogleg par 5 to make the 2d shot more tempting).  The club also means what  it says about preserving the environment and  maintaining a reasonable place of play.   On my most recent visit, we crawled along for a few holes.  A ranger came by and apologized, said that there was a slow group a few holes ahead of us, and that the problem would be taken care of.  It was.  On a busy Saturday, we got around in four hours and 15 minutes.
Bandon Dunes or Pebble Beach can stand as the quintessential West Coast seaside course — heroic places, with a rugged, wild grandeur.  Farm Neck is the New England counterpart, smaller in scale, rich in character, charming and civilized.
High season greens fee this year was $145.   In the fall shoulder season, Sep 6 to October 11, the rate dropped to $100.  Farm Neck stays open through most of December, and the off-season rate is $50.   For further details about rates and dates,and photos that were not taken on my cell phone, check the Farm Neck website.