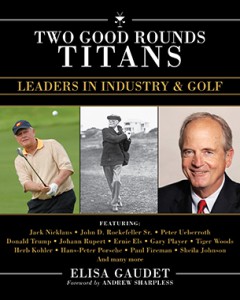 You gotta love Elisa Guadet. She's smart and savvy, outgoing and fun, and she seriously cares about golf. Plus, she is a determined businesswoman who started her own brand – Two Good Rounds, and has published three books that look at golf and the lifestyles of the rich and powerful who embrace it.
Her latest book, Two Good Rounds TITANS – Leaders in Industry & Golf (Skyhorse Publishing 2014, $19.95) has Q&As with 33 CEOs who also own golf courses or have a large interest in golf. Donald Trump, Sheila Johnson, John D. Rockefeller Sr., Tom Cousins, Herb Kohler, Bob Parsons and Hans Peter Porsche are among those featured, along with golfing greats Arnold Palmer, Jack Nicklaus, Ernie Els, Tiger Woods, Annika Sorenstam, Gary Player, Greg Norman and Ben Crenshaw,
The book represents a boat load of research, emails, phone calls and follow-ups, which in itself earns Gaudet an A+ for effort. And while its identical Q&A format with each CEO keeps it from being a compelling cover-to-cover read in one or two sittings, Titans is a great coffee table book, or one that you'd pick up randomly, choose a CEO to read about, and gain some insight and/or inspiration in just a few pages.
For example, did you know Donald's Trump favorite 19th hole drink is iced tea? Or that Paul Fireman, Reebok founder and owner of Liberty National, was once a caddie at Thorny Lea Club in Brockton, Mass.? Or that Catherine LaCoste, CEO of LaCoste and owner of Chantoco Golf Club, is a 2 handicap, who like her mom, won the British Ladies in 1969 (her mom, in 1927) and won the U.S. Open as an amateur in 1967?
Beyond the Jeopardy-style bits and pieces, however, are more substantive passages from those interviewed, including tips on life, business advice shared and tips on golf.
"My goal, as with the other books in this series, is to shine a light on the many incredible individuals who have a passion for golf and illustrate what a positive influence and game changer golf has been for them," Gaudet said. "As the industry looks to grow the game and bring new people into the sport, I looked to find a way to emulate the way media is being consumed and reach beyond the typical golf-only audience. With the continued popularity of outlets like People magazine and Twitter, I aimed for an easy-to-read contemporary format that combines a bit of pop culture and a big amount of wisdom, life stories and advice. As a result, each Two Good Rounds book offers an interesting and insightful collection of profiles.
"Speaking with each of the individuals in Titans was fascinating, as they all have taken different paths yet arrived in very similar situations as leaders in an industry and owning a golf course or having a large interest in golf," she said.
I like what Gaudet has done with all of her books, Titans, and her first two: Two Good Rounds – 19th Hole Stories from the World's Greatest Golfers (2011) and Two Good Rounds Superstars: Golf Stories from the World's Greatest Athletes (2014).
Now I only wish she'd take all of the knowledge gained from her conversations and interviews and write a fourth, summarizing the lessons learned from this amazing group of people. To me, the value of golf in their world is significant and that they choose to make it part of their lives – when truly they can choose nearly anything – speaks well to the staying power of the sport.
Gaudet will be signing books at this year's U.S. Open Championship at Chambers Bay (University Place, Wash.), June 18-21, in the Main Merchandise Pavilion.
For more information, visit twogoodrounds.com or visit Amazon to order your copy of Two Good Rounds, Titans.