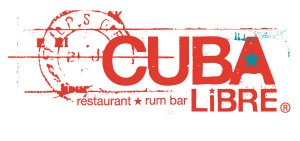 First impressions often are adjusted with time, a.k.a., if I could visit every place I review at least twice, I would.  But that's not the real world.  Just ask contestants on The Voice or American Idol.
My first impression of Cuba Libre in Washington, D.C., was perfection within four walls.  After my second visit I'd add one qualifier – almost.
Cuba Libre is a Disney-style restaurant getaway to modern Havana, which in D.C., is an amazing find in itself. One of a four-city restaurant group (with others in Orlando, Philadelphia and Atlantic City), it is a refreshing escape from the traditional Washington landscape of historic and modern business and government – especially mid-winter.  Its interior Havanna streetscape façade, vertical wide-paddle ceiling fans, patio furniture and potted palms sweep you away instantly into a different place.
The menu, described as Nuevo Cuban, is traditional Cuban fare with a modern twist, and it is complemented by an impressive rum bar menu that produces a variety of Mojitos, tropical mixed drinks and, of course, straight rum shots, including a flight option.  Cachaca-based muddled-lime Caipirinhas, 10 'Southern' Hispanic/Latino cervezas (beers), Pisco drinks and non-alcoholic beverages add to the array of authentic options, and many include in-house-pressed sugar cane (guarapo) as their sweetener.
I went to Cuba Libre for lunch with two colleagues.  We chose from the restaurant's weekday 'Rapido' lunch menu, meant to get you in and out quickly to keep pace with the bustling D.C. workplace reality.  All are combination plates with three to four items, priced from $12 to 16.50.
Two of us chose the "Del Mar" which was absolutely delicious.  The plates arrived with three relatively small, but in my opinion, 'just right-sized' items: Sopa Levata Muerto (Raise the Dead soup), Coctel de Camarones (shrimp cocktail) and Dorado a la Plancha (fresh Mahi-Mahi filet).  The soup, in a breakfast-size bowl, was teeming with seafood; three steamed mussels floated atop the tasty coconut milk fortified chowder that was filled with shrimp, scallops and crabmeat.  The three cold shrimp were prepared perfectly; nestled in a tangy, fresh red cocktail sauce with a touch of avocado salsa. And the small, but satisfying chunk of Mahi-Mahi filet was perched on 'forbidden' black rice with squid-lobster flavored asopado, Mojito salsa verde and chipotle allioli.  Yum.
Our other colleague ordered the "Visit to Havana," which was a half of a Cuban sandwich, house salad and traditional black bean soup, served with tropical chips.  Again, a solid pleaser.
Add our tall and beautiful server, whose sense of service and warm personality made the experience complete, right through presentation of our check in a cigar box, and we were "wowed!"
On my second visit, I again was impressed with attentiveness and charm of the greeter/host (Using the French derived maitre d just doesn't fit!) and server, as I awaited my lunch guests.  This time, and again from the 'Rapido' menu, one ordered the "Visit to Havana" and visibly enjoyed it.  The other ordered the meatless "Vegetariano" featuring a crispy flatbread topped with grilled vegetables and melted Tetilla cheese; a fresh house salad; and black bean soup with fried yucca sticks. She found it tasty and hearty. I had the Bento Box, which at first glance of the menu seemed perfect, until I discovered that my spinach salad was laced with creamy goat cheese, which I somehow I missed in the menu description.  This would have sent some into ecstasy, but it ruined the plate for me.  While disappointing, it was my own fault.
My real disappointment, however, was the appetizer we ordered.  The $12 Maraquitas Cubanas, a chips and dips starter, came with black bean hummus, rum-cured smoked marlin salad, Cuba Libre salsa and plantain and malanga chips.  Presented beautifully and enjoyed as a delightful taste trio, the problem was it came with a basket of about 4 or 5 large chips.  That was not even close to being enough to scoop up the flavorful dips, especially for three people.   So we asked for more chips, and we got a 4 to 6 more in a new basket, later to find out, the extras cost $3 more.  What?!  Bah.  There goes the perfect rating. If plantain and malanga chips are too pricey to be generous with, I say, throw in a big bowl of tortilla chips.  Whatever is done, Cuba Libre should create parity with the hummus, salsa and pate, or risk being considered as skimpy or cheap, with the added charge.
That being said, I'll be back again, and will still enthusiastically tell friends to give it try.  The food is just too good, and since Americans are restricted from visiting Cuba, the visit to make-believe Havana is just too fun to pass up!
Visit http://cubalibrerestaurant.com for more information.  Click here for Cuba Libre's Classic Mojito recipe!