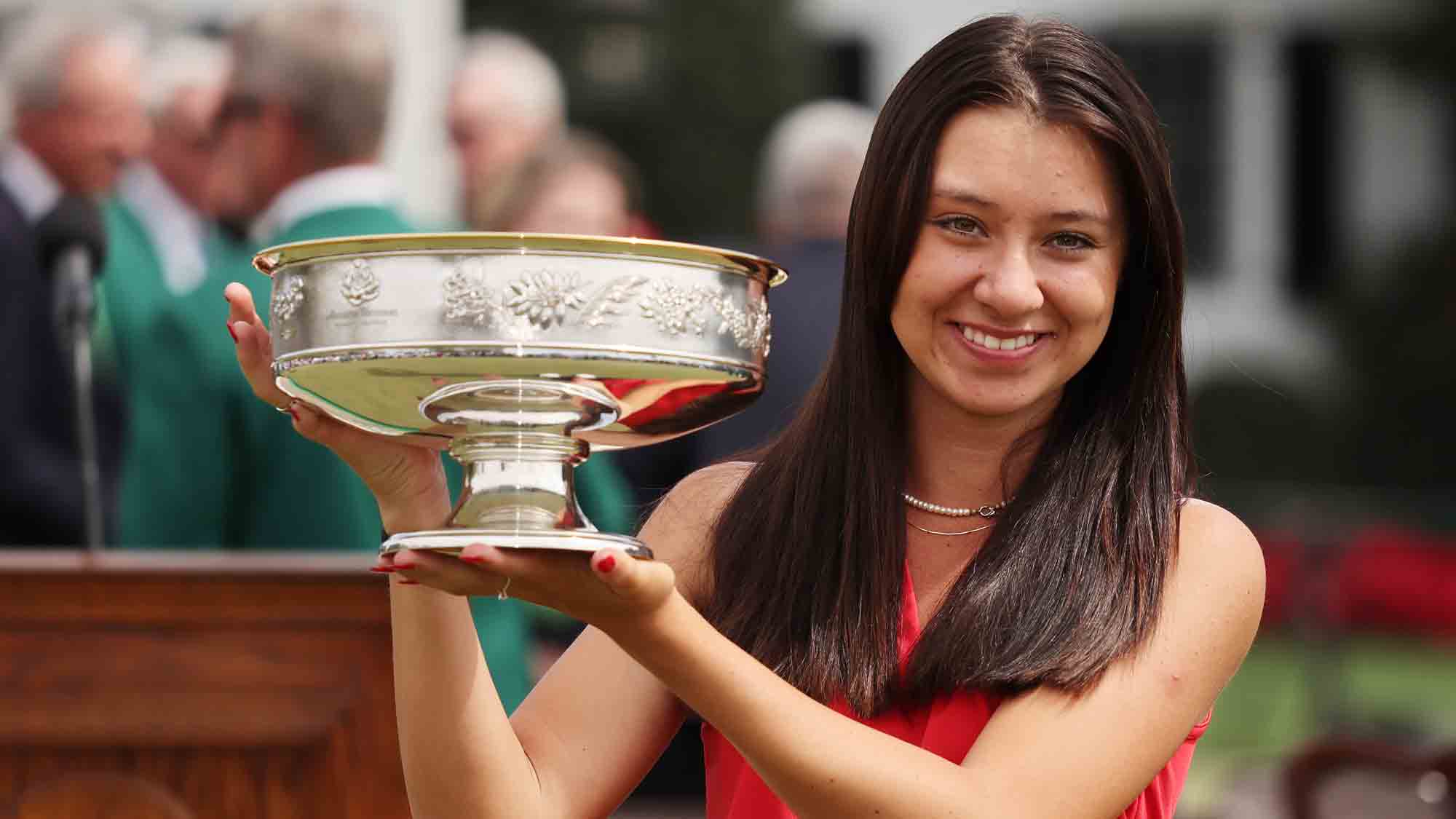 I was going to golf heaven. In mid 2019 I was selected to receive two tickets to the Augusta National Women's Amateur the following spring. I paid $150 ($75/ea) and asked my dad if he wanted to join me but he felt he'd have trouble navigating the hilly terrain and declined. I asked my friend Mark who was about as enthusiastic as he gets about anything which was fairly interested. I received the ticket package sometime late in February 2020. We made plans for an extended vacation in Charleston before hand with our girlfriends and then we would end up in Augusta for the tournament. Of course in mid March 2020 everything in the world was cancelled but Augusta National said that we would be guaranteed tickets to the 2021 event.  However, when 2021 came around the event only allowed a limited number of patrons and we weren't selected as some of the limited number. I was told, however, we would be guaranteed tickets for the 2022 event. I received my second ticket package that contained two lanyard style tickets in early 2022. We made the same plan to visit Charleston the week prior to the tournament and off we went.
After we checked out of our AirBNB in Charleston we rented a car to drive to Augusta, about a 3 hr drive across the very rural South and ended up in Augusta early afternoon. We hadn't had BBQ on the trip so I suggested that we go to Sconyers which looked like one of the more popular places. Mark was okay with the suggestion but not super excited. The place probably had a hey day, in fact they served BBQ at the White House during the Carter Administration, but BBQ has come a long way since then. The meat was average and I couldn't figure out their famous side, rice hash. It was a just a big smear of mildly salty brown stuff that I guess had rice in it but looked like very creamy refried beans. The building is kind of a cool though and everyone was super nice in the way that southern people are.
Afterward, we went to the Pointe South golf course and played the slowest round of golf but the bartender there was absolutely the fastest cocktail maker I've ever seen. We quit after 4 hours, 12 holes and too many cocktails. We checked into the overpriced 2 star hotel we had reserved, on the end of Washington Ave where it starts getting sketchy but we could still walk to all the restaurants. I didn't sleep all that great because I was so geeked up. I had a weird dream about the parking lot being too full and us having to walk all the way there. We kept trying to hail a cab from the road but they were either out of service or were already hired and we ended up missing the golf tournament. I woke up lathered in cold sweat.
We got some coffee, showered up and headed over around 9 AM. There are acres of free parking and dozens of attendents to guide your vehicle in or point the way to the entrance that is already clearly marked. It's wonderful to see an organization that is not necessarily determined to wring every last penny out of their brand. Modest prices for food and beverages, limited commercials on the broadcast, free parking, tickets they sell for a fraction of their value. I paid $75 for the ANWA tickets and they were going for around $350 on the secondary market…even though the ticket agreement forbids you from reselling.
Walking up the entrance path you notice the details. Every single inch of ground is either covered in walking paths, flowering shrubs, perfectly mown turf or pine straw. God, the pine straw. It's several inches deep and everywhere. In order to get the perfect uniform color and in the amount needed to cover the grounds must be quite an endeavor for the pine straw manufacturer with that contract.
As we were walking in there were quite a few people on their way out with huge bags of merchandise, as much as they can carry in some cases. Apparently, a lot of people arrive early, hit the shop and then leave. I had no idea. Because of covid they set up an online shop for merchandise and they did that for both years while I was waiting to go. They don't do that usually; you actually have to get there early and get in line to buy merchandise on site most years. We were going to buy some stuff but the line was about a football field long when we got there and thinking it might be shorter later in the day was a mistake because it was about three football fields when we were leaving. Too long to wait…too bad. I did buy a bunch of stuff when they had the online shop so I wasn't too disappointed. They had some smaller merchandise kiosks at other places on the property but it was mostly hats and chairs. Although they were selling Masters hats, my friend Mark didn't want to buy anything with a Masters logo because, he said, we're not at the Masters. So he bought an ANWA hat. Whatever, I bought all Masters logo stuff.
We ended up talking to a few of the volunteers who couldn't have been more helpful and friendly. We chatted with a dude who had been on the 11th hole for a few years and was happy to detail all the changes to that hole that had been incorporated last year. They had removed a few trees and planted some turf to open up the right side of the fairway. There was a gentleman named Jim stationed by the 17th green for years. Wake Forest alum, played the course a few times and couldn't be more effusive about the way the club treated the volunteers. He probably would have talked to us until nightfall but we felt we had to stop bothering him.
Everyone talks about how hilly the course is when you see it in person but I couldn't get over how wide open it is. The 10th hole has acres of fairway. The 2nd is a mile wide as you get close to the green. Sure, there are chutes and tight spots but when there's plenty of room in so many places you can see why big hitters do well here. On the other hand, sloping around the greens was way more severe than it looks on TV and made me appreciate the pressure the course puts on the short game.
Crows Nest pale ale beers were $5 and delicious. The egg salad and pimiento cheese sandwiches were also cheap but just like you'd expect. You can't really screw up an egg salad sandwich but you also can't make it not an egg salad sandwich. The concession lines could be long but if you wandered around you could find shorter lines and get your beers quickly.
As for the tournament itself, we witnessed a 16 year old assassin in a bucket hat, Anna Davis, take this down on the back nine with two birdies on Amen Corner and a dead pitch on 17 to save par. Her birdie putt on 18 had the perfect speed with the perfect line, it just didn't drop. She played with an evenly quick pace that might have frustrated her playing partner as she wasn't waiting around for putt outs or much of anything. In the end, Latanna Stone, who had a two stroke lead after a birdie at 16, double bogeyed 17 and bogeyed 18 to lose by a stroke.
As we made our way to the entrance I felt like, in a way, this is Disneyland for golfers. This place has nothing to do with what golf is like on a muni golf course played by a 10 handicapper. There is nothing that resembles that world here. It's about presenting patrons and TV viewers with a version of golf that filters out any imperfections, anomalies or strangeness. In that way it seems oddly mundane…like what heaven might be like if it actually exists.