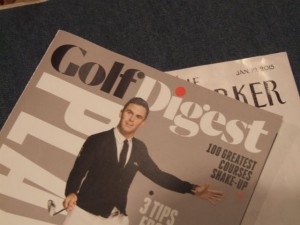 Golf Digest recently came out with their list of the top 100 golf courses in the United States. They do this every two years. The top five in order: Augusta, Pine Valley, Cypress Point, Shinnecock and Merion. You have to go down the list to number seven, Pebble Beach, before you get to a course you (and I say you meaning I) can play. Only 3 of the top 20 are public courses. Two years ago Whistling Straights made the list but it dropped from 16 to 22 meaning that now only three of the Top 20 courses in the U.S. are public. Only 15% of the nation's greatest golf courses are open to the public. This is [struggling to find the right adjective] shameful. What other high profile venues have that type of exclusivity? The great restaurants in the U.S. are all public. My wife and I decided we wanted to eat at French Laundry[1] for our birthdays that are two weeks apart. We checked the date and time the reservations opened for a future Saturday.  As the time approached, we readied our cell phones by calling the reservation line and rehearsing the sequence for the redial function. And then, when the time arrived we started calling, over and over like some frantic radio contestants vying for Katy Perry tickets, until, about 15 minutes later we were talking to the reservationist and had a table for two at 5:30 PM two months hence. Point being, if you want to behave like some freak foodie and set aside a paycheck or two you can eat at what some consider the greatest restaurant in the world.
Private club members might think their courses would be overrun and they would have trouble getting a prime tee time but almost all of England's and Ireland's best courses are private clubs that allow public play at certain times. Muirfield in Scotland (#9 on Golf Magazine Top 100 in the world) allows public play on Tuesdays and Thursdays. It's namesake, Muirfield Village in Ohio (#15 on Golf Digest Top 100 in the US) is private and doesn't allow public play. Royal Portrush in Ireland (#14 in the world) is a private club that "warmly welcomes" visitors according to their website.  St Andrews, Royal County Down, Royal Dornach, Ballybunion and Turnberry are the rest of the Ireland, Scotland and England courses included in the Top 100 in the world and all allow public play. Royal Dornach's website states that the members and people of Dornach realize the "joy their course brings" and welcomes visitors and the accompanying tourism. Can you imagine Augusta with that type of welcoming attitude? The Alotian Club in Arkansas (debuted at #14 in 2011), built by billionaire Warren Stephens, is so exclusive that it took six years (it opened in 2005) before there were enough panel reviews to meet the Golf Digest minimum threshold for inclusion (Golf Digest requires 40 reviews before it will include any course in the Top 100). After it was announced that The Alotian Club made the Top 100 their Director of Golf said, "It's something we hope and feel the state of Arkansas can take great pride in." I'm sure the people of Arkansas might take great pride reading about it in Golf Digest even if they aren't allowed on the property.
And what to make of the Golf Digest list? The information is mostly useless for everyday chumps. Are you deciding which of these Top 20 courses you may want to join? Well, nice to meet you Charles Schwab! Do you care that Oak Hill Country Club in Rochester, NY moved up from #21 in the last poll to #17? Probably not, unless you write press releases for a living. The top two in the Golf Digest ranking, Augusta and Pine Valley, have been trading the top two spots for the last several polls. What infinitesimally small subset of golfers have been able to play both of these courses and would be able to talk knowledgably about which course is better? Who's number one? I'm sure that's a subject that would launch about zero bar arguments. Avid golfers may be familiar with Augusta. As for the rest of the courses, there may only be fragments of memories from PGA tournaments that may have been held at those venues.
Even if someone has the resources to buy a golf membership at an exclusive Top 100 golf club. What's the point? I live in Northern California, the worldwide mecca for golf, and if I join a country club I would be paying a premium to play the same course again and again. Typical monthlies for private courses in this area are about $600 with grill fee. That could buy a lot of premium public golf; you could play Spyglass and have enough left over for four twilight rounds at Fred Couples designed San Juan Oaks for $600.  And then, also, if you join a club you end up playing the same course over and over. That's why tennis sucks…every tennis court is the same.
And doesn't the private course concept just seem archaic and wrong, like the three martini lunch or keeping a mistress. In this day and age it seems they should be dying out. Instead, private courses are still being built and opened; of the four courses in the Top 20 that were built in the last 20 years two, Sand Hills and the Alotian Club, are private. One thing that could change the dynamic quickly is economics. Many private courses are facing increased competition from public daily fee courses that are just as immaculately groomed, well designed and challenging as the best private courses. And after the real estate golf boom of the early 2000's tee times are not difficult to get. The other dynamic that is affecting golf courses, Americans are playing less golf. And to be frank, country club members are getting older and dying. The economics may result in more country clubs opening their fairways to public play. But the best scenario would be if one [Augusta] or two of the top private courses would allow periodic public play. They could auction the tee times for charity or hold a lottery for the coveted times. This might set an example that many of the other Top 100 courses would follow and open the flood gates to public play on private courses.
[1] If you're the type that would drop $500 for a round at Pebble then French Laundry is the place for you: beautiful food, beautiful wine, 16 courses or something ridiculous, 2.5 hours of delight. Sick in the best way.