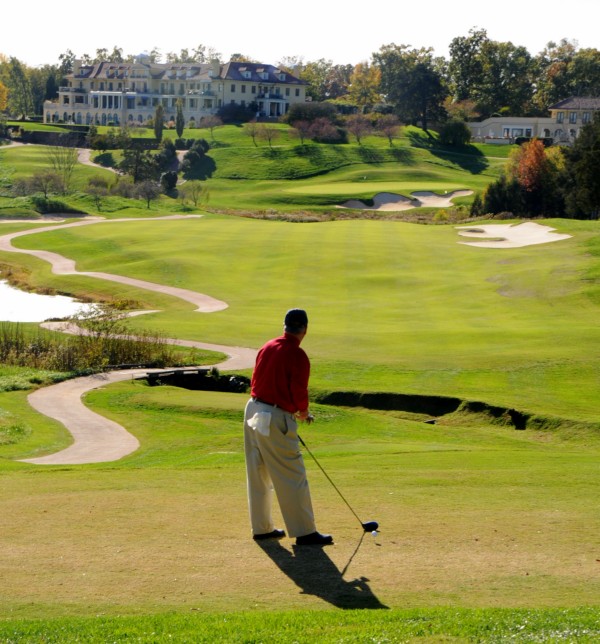 I have never been a guest at the country estate of an aristocrat with a private golf course. But if that were to happen, I suspect it would be much like spending a weekend at Keswick Hall.

As I write this, I am trying to think of someplace comparable, a resort that would enable me to say, "Keswick Hall is like…" and create an instant connection in a reader's mind. But I can't.

For one thing, there's the scale. Keswick Hall has only 40 or 50 rooms. It's got all the appointments of a world-class hotel, yet it's intimate. How many hotels of that size can offer a first-rate golf course?

For another, there's the location. Keswick Hall is on a neighboring hilltop to Monticello, Thomas Jefferson's home. This is Virginia hunt country. The land is green and rich; its folds suggest a heavy silk scarf tossed on a bed.  The environs include some excellent small wineries and Jefferson's other architectural masterpiece, the central Grounds of the University of Virginia.  

Then there's the ambience.   Outside the front entrance, in the autumn, there's a fountain and a clever display of albino pumpkins. Inside, a fire crackles in the main room. In the wings to the sides, balls roll quietly over green felt in the billiard room and pages turn softly in the library. Upstairs, each room has a different decorating motif. I've stayed in a room that looked like the clubhouse for a rowing crew. On my most recent stay, my wife and I had a room with a musical motif, right down to the (non-functioning)Victrola.  The restaurant, named Fossett's after one of Jefferson's cooks, is superb. Its windows overlook the golf course.

Gazing out those windows at breakfast, noting the wide green fairways, the course might seem a tame resort track. And at 6,519 yards from the back tees, it is not going to overpower anyone. But it is deceptively challenging. The slope from the back tees is a robust 136.

The difficulties begin with the tee shot from the elevated first tee, which has to fit between woods on the right and water on the left. A long, straight drive on this par five, however, can yield a birdie opportunity. The front nine climaxes with a very difficult par four, 468 yards long, that requires a tee shot to a fairway that slopes severely toward a patch of trees and marsh, then a second over water to an elevated green.

It's been said that one measure of a fine course is the quality of its short par fours, and Keswick has five holes that fall into that category. Nos. 7 and 10 are preludes to a stretch of three straight holes, from No. 13 through No. 15, where the longest approach club a player is likely to need would be a 9-iron. But they're not easy. The tee shots demand careful club selection. The approaches must be precise.

The greens on every hole at Keswick were thoughtfully contoured during a restoration by Arnold Palmer's company a couple of decades ago. The bunkering is deep and the sand is coarse-grained and consistent. The layout abounds in elevation changes. It's well-maintained. Keswick Hall earned an A in my rating system. I would have been happy to play it again.

But there were wineries to visit and vintages to sample. The Virginia wine industry has developed in the past couple of decades from a regional peculiarity to a producer of interesting wines that, to my admitted less-than-expert palate, can stand with the wines of Europe and California. Twenty miles away, the leaves were turning on the Appalachian Trail. It was Hallowe'en on Jefferson's Lawn at the University.  In the neighborhood of Keswick Hall, golf is just one of the attractions.