I may not be able to play good golf, bu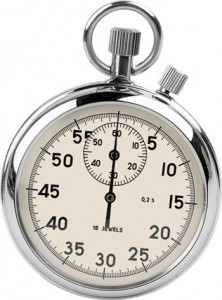 t I can play fast golf. I don't like to waste time on the course. In fact, it's gotten to the point where four hours is a long round for me.
That's why it kills me to see the five-hour plus rounds of golf on the PGA Tour. Slow play easily is the No. 1 problem on the Tour today. It's tough enough to hang in there for four hours. Five hours is out of the question.
I've often challenged PGA Tour officials to actually spend a tournament in the galleries and watch a particular group, especially a threesome on a Thursday and Friday. If they did, they would enforce the slow play rules out of sheer boredom.
Slow play is going to be a continous rant on this blog. The pressure needs to be put on golf to pick up the pace–big time.
My old golfing pal Gene Wojciechowski, who also plays poorly but fast, wrote a terrific column yesterday for ESPN.com. He followed Kevin Na's group at the Arnold Palmer Invitational.
Wojciechowski had heard Na ranks up there as the slowest player on the PGA Tour. He didn't disprove that image yesterday. Even though his group was second off the tee, it took Na's threesome nearly five hours to complete the round.
Wojciechowski writes:
Only one threesome teed off before them — not that we ever saw it. Na & Co. never had to wait to hit a shot, were never slowed by any official rulings and had only one instance when a player (Goydos) dunked a shot in the water and had to drop. And it still took nearly FIVE HOURS!
It's not that the tour isn't aware it has a pace-of-play issue. Every pro on the Bay Hill driving range knows that Na moves slower than frozen maple syrup. And he isn't the only guy who is speed-challenged.
You could build an acropolis in the time it takes J.B. Holmes to finish a round of golf. Webb Simpson and Ben Crane aren't much better. And there others (Campbell had his moments Thursday) who play as if they're being paid by the hour.
 Nice job, Geno. Mr. Na, please fix this.