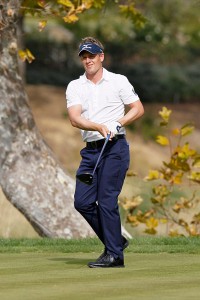 Out yesterday, but wanted to weigh in with belated birdies and bogeys from a big weekend in golf.
Birdie: Luke Donald. Loookeee! Luke Donald's rise to No. 1 is very exciting for those of us in Chicago who remember him wearing the purple shirt for Northwestern. We knew he had the potential to be good, but never in our wildest dreams did we think he would be the No. 1 ranked player in the world. It's a huge accomplishment for Donald.
However, the bigger deal for Donald Sunday was winning the BMW PGA Championship. Victories haven't come easy for Donald. He wants to show everyone that he is more than a player who can string together a bunch of top 10 finishes. He wants to start piling up victories in tournaments, big tournaments.
The BMW PGA is the biggest event on the European Tour. Last year, he blew an opportunity down the stretch. This year, he managed to get it done in front of the home crowd in London.
All hail, the No. 1 player in the world: Northwestern's very own Luke Donald.
Birdie/bogey. Lee Westwood. Put up a great fight. However, if you're going to be No. 1, you need to be able to make that short birdie putt on 18, which would have given him the title in regulation.
Bogey. Wentworth. Westwood deserved better than to have his ball spin off the green and into the water on 18 during the playoff. That shot only will add to the criticism of Ernie Els' redesign of the course.
Birdie. BMW PGA Championship. Really a great event with a superb field. Much better than the Byron Nelson.
Birdie. Keegan Bradley. Yet another unknown wins on the PGA Tour this year.
Bogey. Unknown winners. Is this good for golf? I'll admit after watching Donald and Westwood battle it out earlier in the day, I had a hard time getting pumped up for a playoff between Bradley and Ryan Palmer.
Bogey. Sergio Garcia. He could have put some star power into the event, but it was same-old, same-old Sergio. He faded horribly with a 74-77 on the weekend.
Birdie Tom Watson. All hail Tom Watson, winner of the Senior PGA. Still going strong at the age of 61. Should give hope and inspiration to everyone who picks up a club.