ESPN news services released a scary report today about an altercation on a Texas golf course where a man was stabbed with the broken shaft of a club:
The 48-year-old man, whose name was withheld by the newspaper over his fear of retribution, suffered a punctured femoral artery when he was stabbed in the leg with the shaft of a broken golf club, a Tarrant County Sheriff's Department spokesman said, according to the report.
The attack happened on Jan. 27 at a golf course at a resort near Eagle Mountain Lake, after the alleged victim's group asked to play through, believing the group ahead of them was playing too slowly, according to the report.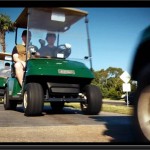 I've actually been threatened with violence on a golf course before.  When I was a beginner, I duck-hooked a drive off the tee that ricocheted off a set of trees on an adjoining hole. When we got near my ball, one of the guys in the group (a group in which all had clearly been drinking), yelled and cussed at me profusely, demanding an apology for not yelling "fore!" I would have apologized under normal circumstances, but the guy was way out of line. Not to mention that I couldn't see their group (or the set of trees I hit) from the tee box.  Being denied the apology, the guy grew angrier and more profuse and grabbed a club from his bag.  He didn't charge at me or anyone in the group, but it got tense for a while. I then had the privilege of trying to hit a 3-wood on a Par 5 in front of the entire group in order to continue my play of the hole. Suffice to say I was a bit intimidated and topped the hell out of it. One of the few times in my life when I actually did not want to be on a golf course.
The report from ESPN is another example of  our society's violent tendencies overshadowing one of its most peaceful endeavors: a round a golf. It's sad to see grown adults unable to settle their differences like the gentlemen who went before us. Another thing is clear — getting into a fight on a golf course can escalate quickly.  Each person has 14 lethal weapons in their bag. If you throw booze into the mix, you never know what can happen.  We all share a responsibility of keeping our rounds of golf considerate and respectful. Without that, we're looking at a future of golf like the one in The Golf War.