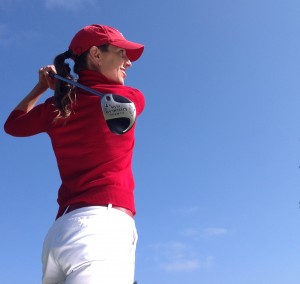 "Our goal is to tear down the walls between practice and play, between theory and performance.  We want you to learn not to be afraid of a golf shot but rather to be inspired by the challenge.   This can only be achieved by experiencing real golf in practice — not by mindlessly scraping and hitting balls on the range." Lynn Marriott and Pia Nilsson, (Founders of Vision54.  Play Your Best Golf Now.  Rated #1 Golf School by Golf Magazine)
Before heading out to any practice session, determine which parts of your game need the most attention.  Do you want to practice proper alignment for approach shots? Tension management on the first tee? Improve your distance control on long putts?  Be very specific.
Next, develop a plan to improve these skill sets.  (If you are unsure, now is the time to take a lesson with your coach.  There is no need to practice bad habits.) Spend at least half of your practice session simulating golf.  Go through your full pre-shot routine, change targets and challenge yourself to mimic real golf, not just "golf swing".
Plan your work, work your plan.  More to come. . .
Dodie teaches golf in Santa Cruz, CA and Scottsdale, AZ.  For more information on golf lessons, mental strategy coaching and tournament preparation, contact dodiemazzuca@live.com