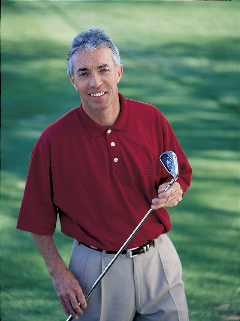 You know this scenario: as soon as you've sliced your drive into no-man's-land you shake your head, roll your eyes, and mutter: "should've hit three-wood."  And your playing partners give that annoying little nod of agreement because they were thinking the same thing when you walked up to the tee box with the big stick, which you haven't hit straight since before the Internet.
Donald Crawley, Director of Instruction at The Boulders Golf Academy at The Boulders Resort, in Carefree, AZ, doesn't offer a swing tip or a mechanical tweak as the best advice for scoring well on The Boulders' two desert masterpieces designed by Jay Morrish– or on any course.  He advocates the simplest correction of all– better decision making. Like knowing when to choose three-wood to avoid three-off-the-tee.
Consider the opening tee shot on The Boulders' South Course, for example, which Crawley describes as "pretty intimidating.  You really must play to the 150-yard pole, which is only 220 yards out.  If you hit driver more than 220 yards you'll end up in a bottleneck of fairway fifteen yards wide, so driver is really a high risk, low reward shot."  Crawley recommends three wood.  "You probably don't hit it as far, which is an advantage here, but the real key is that three wood has more loft and backspin so you tend to hit it straighter, reducing a fade or a draw."
The same dilemma presents itself on the seventh hole of The Boulders' North Course, a short dog-leg left.  As you stand on the tee, the shot appears trouble free.  But three hidden bunkers lurk to the left.  "It looks like you can cut the corner, but the hidden trouble will grab many tee shots.  Focus on the aiming pole that looks to be set up far to the right– or at the eucalyptus tree even beyond there," Crawley advises.  "That's the real target line if you don't want to drive through the fairway.  And sure you could hit driver here, but the hole is only 340 yards, which means it's only 190 to the 150 pole.  Hit a hybrid or fairway wood so you can find yourself in the middle with a short iron in your hand."
Put most simply, Crawley says the key to scoring well at The Boulders is to "trade length for accuracy.  Keep the white (your ball) on the green (the fairway)."
Now why didn't you think of that?