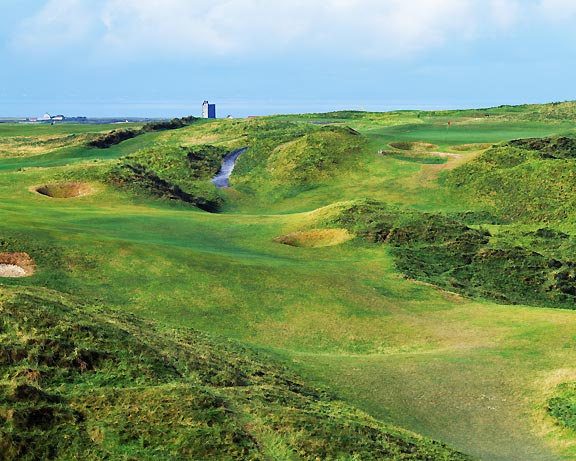 Just for starters, Ireland's Tralee Golf Club may have the single best yardage guide I've ever seen– with actual aerial photographs of every single gorgeous hole, with yardages to major features superimposed on the photo in color-coded numbers representing the distances to these features from the various tees.  The photos are good enough that you want to tear them out, frame them, and stick them up on the wall above your desk to remind you of what, aside from the quality and attraction of the golf course itself, could be one of the most achingly beautiful pieces of linksland in the world.  The land here was used in the filming of  the 1968 movie Ryan's Daughter. Elegant stone ruins from the 12th and 13th centuries provide historic backdrop to a number of holes, as do views of bays and dunes and estuaries working together to create an unusually beautiful setting.
From the first tee golfers begin to interact with the landscape and history– a stone wall left of the green is like a doorway to what lies ahead.  The second tee shot– at least in my case– caromed off a similar wall because I mis-judged the line toward the hole 588 yards away and ending on the edge of a peninsula jutting into breaking waves, with a round stone tower beyond and the ruins of a castle further beyond in the distance.  To the right cliffs dropped down to the water.  The third hole is a wonderful par three that plays as long as 194 yards: anything short kicks off an invisible slope toward a pot bunker that you barely notice while setting up the shot.
While I am never a fan of reading hole-by-hole descriptions of golf courses, it's almost too difficult to just pick a couple at Tralee to showcase.  I'll skip a few and tell you that the 157-yard seventh offers another distracting castle view and three lovely pot bunkers lurking to the right of the green.  Anything left can be considered an offering to Poseidon.  But wait, I have to also mention number eight, a 399-yarder that my notes say– with exclamation points!!!– may be one of the worlds best par fours, with ruins visible in the left corner, beach all to the left, and wind coming in off the water, challenging you to choose the best shot at the best angle.  A narrow neck between dunes and cliffs is right about where you'd hope to hit a drive.
On the back nine the eleventh finds golfers wandering along curling fairways carved into high dunes, wheat-colored on top, daunting from ground level, and no place to leave a golf ball.  The thirteenth must clearly rank with the best par threes in the entire world, which would be fine to write if I hadn't already said that about a couple on the front nine.  Let's just say that you'll need a rope and harness to find anything hit short, which will disappear into an abyss so deep and dark there may well be a dragon and a wizard down there.
The closing holes here are among the most fun you could find anywhere, and they actually relent a bit in length and difficulty, providing for a strong finish, which all golfers love.  The 300-yard 15th requires a bunt driver lay-up to a platform between dunes and bunkers and then a possibly-blind, perfect high-lofted pitch to a small green.  And no, I didn't only love it because I made birdie here.  It's followed by a solid par three set against the Atlantic, a mid-range par four, and a reachable par-five at the final hole where the drive must be hit boldly between bunkers angling into the fairway from both the right and the left.
While we enjoyed a Guinness in the clubhouse, as required by Irish law, I happened to look out the window at a man being rolled onto the putting green in a wheelchair.  We were told that the noble gentlemen, who played off a nine handicap and traversed the links at Tralee about five times a week– as would anyone with any sense who was lucky enough to live nearby– had recently suffered an aneurism and for a while wasn't expected to live.  We were witness to his triumphant return to the course to hit his first putts since his injury, and I was very moved by his bravery and fortitude, and reminded of what golf means and has meant to people.  My father was one such person, and his recovery from cancer was driven by his unrelenting desire to play golf again.  Years after this, when my dad realized he would not be able to play any more, I believe he decided that he'd reached an acceptable end.
And so the Golf Road Warriors wish this gent great success in putting, chipping, and all other golf related endeavors and will offer a few prayers that he'll enjoy further birdies in a successful future.