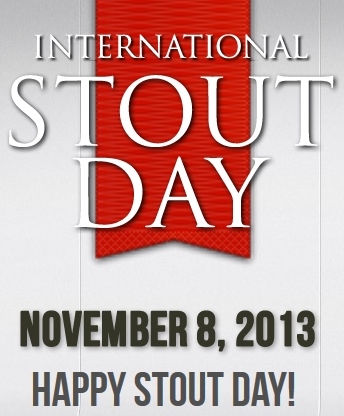 It's November 8, the Third Annual International Stout Day and it's time for lunch. Liquid bread it is. (Okay, with a slab of chicken I grilled last night.)
Last year I actually drank an international stout on International Stout Day, the Lava Smoked Imperial Stout from the Ölvisholt Brugghús of Iceland. But as I said in that report, it's not a requirement to drink an international stout today, or even any stout. (Only death and taxes prevail, as always.) The day is merely set aside to acknowledge the sheer wonderfulness of stout in all its varied forms.
Created by west coast beer enthusiast and writer Erin Peters, perhaps better known as The Beer Goddess, Stout Day (#StoutDay on Twitter; stoutday.com online) has certainly encouraged various events planned around the day, and perhaps prompts those who may be thinking about a tipple to turn to the dark side.
For some of us, it's an excuse to have a beer for lunch. With that in hand, I had only to decide which one to have, since the current collection includes a few Imperial Stouts aging in the cellar (i.e., garage) and others. (Not, unfortunately, any North Coast Old Rasputin Russian Imperial Stout at the moment.)
Problem solved by BeerInfo.com, which sends a frequent brewsletter to my Inbox. Today a thoughtfully provided Top Ten Stouts list arrived, the U.S. picks derived by combining results from the 2013 U.S. Open Beer Championships, the Great American Beer Festival, and the online review site RateBeer.com. Here's the list: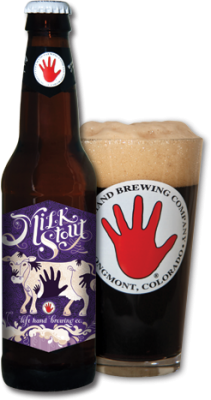 1. Secret Stache Stout – Finch's Beer Co. – Illinois
2. Pike 5X Stout – Pike Brewing – Washington
3. Milk Stout – Left Hand Brewing – Colorado
4. Blarney Sisters Dry Irish Stout – Third Street Aleworks – California
5. Kilgore Stout – Beachwood BBQ & Brewing – California
6. Fade to Black Volume 1 – Left Hand Brewing – Colorado
7. Kalamazoo Stout – Bells Brewery – Michigan
8. Dragoon's Dry Irish Stout – Moylan's Brewing – California
9. Stumpy Ridge Stout – Black Tooth Brewing – Wyoming
10. Battlecat Stout – Cannonball Creek Brewing – Colorado
I've had my way with the Pike XXXXX before. And I've probably had the Kalamazoo Stout somewhere along the way. The rest are complete and total mysteries, with the exception of the Left Hand Brewing Company's Milk Stout, a bottle of which I'd recently transported back to Vermont (where it's not available) from Virginia (where it is).
(Before we proceed, any Vonnegut fans in the audience can take the time to give Beachwood BBQ & Brewing some best name applause.)
I first ran into the Left Hand beers at the Kohler Festival of Beer in 2010. I thought it was pretty good—with a woody, raisiny, dark chocolate nose, entering like satin and velvet on the tongue. The beer is made with four malts (including chocolate), roast barley, flaked oats and barley, and lactose, which of course gives it its claim as a milk stout and leans the beer toward the sweet side rather than dry.
But it's not too sweet; it's hopped with Magnum and U.S. Goldings, and it all levels out into a lovely brew that goes down easy, perhaps too easy for a six-percenter.
I was nonetheless a little astounded when the beer was the top vote-getter in the Kohler Festival's big Saturday night event, Cheers to Beers. Not that Left Hand's brew wasn't good enough by any means, but that any stout, and particularly a milk stout, would waltz away with the honors. Savvy crowd, which would no doubt be deeply in tune with International Stout Day. The win also meant that the beer would be on tap at Kohler's Horse and Plow Pub & Restaurant for the entire summer.
Turned out I was able to return to the Festival in 2012, and doggedly made my way through 72 beers. The last—not that I planned it that way—was Left Hand Brewing's Milk Stout.
Okay, that takes care of lunch. As for tonight….
Name: Milk Stout
Brewer: Left Hand Brewing Co., Longmont, Colorado
Style: Milk Stout
ABV: 6%
Availability: Year-round, 27 states
For More Information: www.lefthandbrewing.com