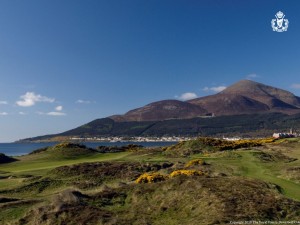 Old Tom Morris – greenskeeper, clubmaker, golf champion – was a busy man.  Between all his other activities centered around St. Andrews and the Old Course, he managed to contribute to the design of some 30 links golf courses in Scotland, England and Ireland, including Muirfield, Carnoustie, Prestwick, Royal Dornoch, Lahinch…and what some consider to be his finest piece of work, Royal County Down.  Minutes from the 1889 meeting of the nascent Royal County Down club show that Mr. Morris was to be rewarded no more than 6.50 pounds sterling for his efforts.  Most agree that the club got a decent bargain; even Old Tom may have felt good about this engagement, as he generally was not paid more than five pounds for his services.  The course was modified a few times over the years, first by George Combe during his oversight of the course in the early 1900s, then by H.S. Colt in the 1920s.  Though changed, the track still summons the spirit of its creator.
Royal County Down rests 30 miles south of Belfast, in the hulking shadow of the Mountains of Mourne, and abiding the shores of Dundrum Bay.  Though close to Northern Ireland's largest city, the course affords a sense of isolation, and is considered one of the world's most beautiful and challenging venues.  Bernard Darwin, the father of golf course writing, said this of Royal County Down:  "I now say that I have seen nothing finer, either as a test of the game or from the point of scenic splendor."  A contemporary golf writer, Joel Zuckerman, referred to Royal County Down as "a green and golden moonscape.  It's something otherworldly, with massive gorse covered hills in different hues of indigo and dark green, with terrifying blind tee shots and gaping acreage of sand."
Damian Pascuzzo came upon Royal County Down in 1999 on a trip with his colleagues from the American Society of Golf Course Architects.  "Traditionally, we meet every year somewhere in the United States to play and compare notes.  Every five years, we go to England, Scotland or Ireland for a week.  I think that seeing these wonderful courses provides great food for thought – even inspiration – for most of us.  The day we played Royal County Down the weather was just spectacular, though being on the Irish Sea, that's certainly not always the case.  That day, the dunes seemed monolithic, the fairways seemed large-scale – everything had a sense of grandeur.  The absence of housing is also noteworthy.  The whole links had the feel of a public green."
There are several characteristics that distinguish Royal County Down.  First, there are a number of blind tee shots, and several blind approaches  In these cases, the path to safety is shown by small white rocks set out before the tee box.  One advantage of the blind shots is that as you crest a hummock to find where your ball has come to rest, you're treated to surprise vistas, views so pretty that you may not even mind if your ball is nowhere in sight.  A second prominent characteristic is the course's abundance of bunkers, 129 to be exact; many are adorned with a fringe of heather and Marram grasses, which adds a beauty that belies the hazard's ill portent.  Lastly there's the gorse and the deep fescue rough.  One always wishes to keep it in the fairway, but at Royal County Down, one really wants to keep it in the fairway; though stunning to behold when in its bright yellow bloom, the gorse is not your friend.
The course is set in two loops of nine that return to the clubhouse.  The first three holes head northward out along the beach, which is blocked from view by a series of dunes.  After a benign par-5 come two long par-4s.  If the wind is up, even a strong player hitting wood-wood will be hard-pressed to reach these greens in regulation; this is not a flag ruffling wind, but a bend the flagpole in a 90-degree angle kind of wind.  Thanks to the breeze and the hard turf that provides a great deal of roll, players will often do well to keep the ball low for bump-and-run approaches.  For those comfortable with a land game, there's almost always a path to the green.
Royal County Down's most famous hole is the 9th, a monstrous 486-yard par 4.  Your tee shot is played along the line of the aforementioned white rocks, over a heather-covered hill.  As Brian McCallen has put it, "The view from the hill's summit is the reason golfers carry clubs to Newcastle.  Byeond the attractive white clubhouse is the red brick steeple of the Slieve Donard Hotel.  Backdropping the rooftops of town are the Mountains of Mourne, which really do sweep down to the sea."  Challenging as it is beautiful, the 9th is a fitting close for one of golf's great front nines.  For Damian, the hole that holds a special memory is the 212-yard, par-3 4th.  "You start from an elevated tee, as you do on many of the holes at Royal County Down.  You're looking out over a sea of gorse, with three mountain peaks and the hotel spire out in the distance.  Between the yellow of the gorse, the green of the mountain, the red of the spire and the blue of the sea and sky, it was a technicolor dream."
Damian Pascuzzo is a partner in the golf course architecture firm Graves & Pascuzzo, based in El Dorado Hills, California.  A past president of the American Society of Golf Course Architects, Damian counts The Ranch Golf Club (Southwick, MA), La Purisima Golf Course (Lompoc, CA), Indian Pond Country Club (Kingston, MA), Maderas Country Club (Poway, CA) and The Bridges at Gale Ranch (San Ramon, CA) among his original designs.  His renovation work includes La Quinta Country Club (La Quinta, CA), Blackhawk Country Club (Danville, CA), and The Lakes Country Club (Palm Desert, CA).  Damian is a graduate of Cal Poly-San Luis Obispo, with a BS in Landscape Architecture.
If You Go…
Getting There:  Royal County Down is situated in the town of Newcastle, approximately 30 miles south of Belfast and 90 miles north of Dublin.  Direct flights to Belfast are available from Newark, NJ on Continental (800-231-0856; www.continental.com).  Eastern Airways (08703 669 100; www.easternairways.com) has service to Belfast from a number of UK airports.
Course Information:  Royal County Down measures 7,037 yards from the tips, and has a par of 71.  The course is open to visitors on the following schedule:  Mondays, Tuesdays and Fridays – 8:00-8:30a.m.; 9:30a.m.-12:00 noon; 2:00p.m.-4:00p.m. Thursdays:  8:00-8:30a.m.; 9:30a.m.-12:00 noon.  Sundays:  1:00p.m.-2:30p.m.  Greens fees range from 75 pounds in the winter months to 180 pounds in the spring and summer.
(Photo courtesy of Royal County Down Golf Club.)