It was Sam Smith's night at the Grammy Awards on Sunday, as the English singer carted off four of the gold-plated gramophone trophies, which look like they could hold a dram or two. It would have been appropriate if Smith had celebrated by draining some Sam Smith beers out of one of them. He's clearly familiar with the Tadcaster brewery, according to an Interview interview he once did with Emma Brown:
BROWN: There's an American basketball player called Sam Smith and apparently there's a brewery as well.
SMITH: Oh, there is a brewery. I've actually tasted the beer; it's quite nice. It's called Samuel Smith, which is my actual name. It's good beer. Maybe that's my favorite.
BROWN: You should get a lifetime free pass to it.
SMITH: I should be the face of Samuel Smith Beer. That'd be great.
The brewery might be thinking the same thing about now. And it wouldn't have to pay any royalties to Tom Petty, either.
Smith (the singer) came to an agreement with Petty and Jeff Lynne, the writers of the Tom Petty & the Heartbreakers song "I Won't Back Down," over the similarity in the choruses with Smith's huge hit, "Stay With Me." Smith, for his part, never contested the similarities but said it was a pure coincidence since, as a mere lad of 22, he had never heard the earlier song.
It was all most amicable apparently. Petty released a statement on January 29 saying in part, "All my years of songwriting have shown me these things can happen…. A musical accident no more no less…." It didn't hurt that he and Lynne are now listed as co-writers of "Stay With Me" and share in the royalties, but no harm no foul no news, let's move along.
Michael Jackson (the writer, not the Grammy Award-winner singer) probably should have tried to get royalties for every Samuel Smith Oatmeal Stout sold. It would undoubtedly have made the late, great bard of beer a more prosperous man. He was instrumental in resurrecting the style after it had vanished from view.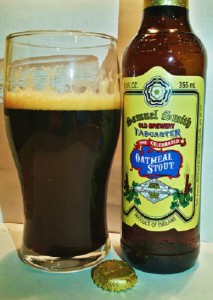 According to Martyn Cornell in Amber, Gold & Black oatmeal stouts had all but disappeared in England by the early '70s, the last two breweries to produce them being G.E. Cook of Essex and Wadworth of Devizes. The former is defunct, the latter still brewing, but without an oatmeal stout in the portfolio.
Jackson was contacted by Charles Finkel, then of Merchant du Vin, to suggest what the style might taste like, even though he'd never had one. And despite the brewery's initial hesitation, the style was reborn in 1980. (I delve into this in a review of Samuel Smith's Yorkshire Stingo, so no need to repeat it here.)
What might be worth repeating, now that oatmeal stouts are as common as dirt, is how astonishing the beer seemed at the time. Indeed, it pretty much became the template for all the oatmeal stouts to come. Or, at least, the wellspring, since the style has flowed down many tributaries since. These days many American oatmeal stouts are strong and highly hopped, while Samuel Smith's remains relatively conservative at 5% ABV, and lightly hopped.
In the various editions of his pocket guides Jackson always gave the Samuel Smith's Oatmeal Stout four stars, denoting a world classic, which certainly indicated a man pleased with his work. The beer is still much-loved however; gauging by the varied beer rating sites it sits at the top for any sweet stout at 5% or lower. Sweetness is a relative term here. Some cane sugar goes into the mix but it's not a sweet stout or a milk stout in, say, Mackeson or Left Hand Brewing terms; it's merely a little sweeter than a dry stout like a Guinness.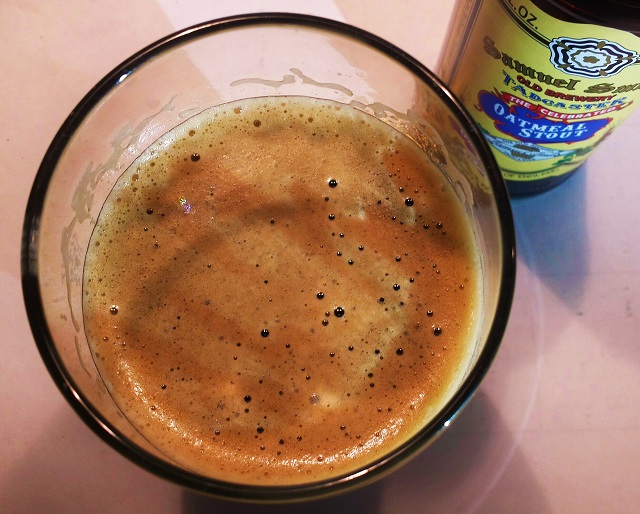 The beer looks jet black, but with some light behind it glows with reddish embers, topped with toasty brown foam. The oatmeal gives the beer as velvety a texture as a Sam Smith ballad. Whether it's from the hard well water used at the brewery or the slate open fermenters, or both, there's some metallic bite to the brew, with raisin, sherry-like flavors, only a suggestion of roast, and a lightly bitter finish with a caramel aftertaste.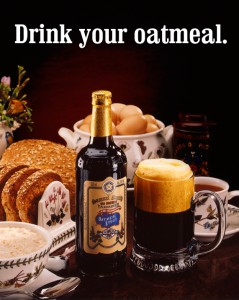 It's quite easy-drinking, really. Having a second seems like no effort at all.
Name: Oatmeal Stout
Brewer: Samuel Smith, Tadcaster, England
Style: Oatmeal Stout
ABV: 5%
Availability: Nationwide, year-round
For More Information: or www.merchantduvin.com
Some other oatmeal stouts:
Lefty's Big Brekkie Breakfast Stout
Lucky Town Flare Incident Oatmeal Stout
Stone Hammer Coffee Oatmeal Stout