If you're the kind of golfer who's lucky enough to play two rounds each week, it would take you more than a year to test-drive every course in the Palm Springs area.  Sure you can also ride the aerial tram, hike the Indian Canyons, or shop along chi-chi El Paseo.  But why would you, when more than 1oo golf courses of every mood, demeanor, style, and challenge await behind little stone gates and cute guard houses, up swishy driveways and beyond adobe walls?  In earlier days there was even a putting green at the airport, for Godsakes.
And if you are what some folks might describe as overly-intense about golf– if you stalk the coffee pot each morning the way you'd line up a putt and clutch your breakfast silverware with an interlocking grip– then consider Palm Springs your just reward for good deeds performed and mulligans proffered to your friends.  Arguably one of the best golf resorts for serious golfers not just in Palm Springs, but in the known universe, La Quinta and affiliated PGA West offer play on five top-tier public venues that have hosted such well-watched events as the Legends of Golf, Diners Club Matches, Skins Game, and the Grand Slam of Golf.
I've written previously about The Golf Road Warriors' Experience at La Quinta's Mountain Course, which may have been my favorite of all the designs we played this week– until we played our last round of the trip at PGA West's Stadium Course.  While fellow warrior John Strawn– who is the president of the prestigious golf architecture firm of Arthur Hills/Steve Forrest and Associates– claimed to hate the course, we must attribute his attitude, at least in part, to the fact that he lost yet another match to me on this very difficult track.  But I also understand why a well-educated golf afficianado could dislike the course for all the exact same reasons that I loved it.
This Pete Dye creation has earned the kind of prickly and mean-spirited reputation that some golfers love.  Charged with designing the most difficult golf venue ever, Dye took his inspiration from the Marquis de Sade.  When this 7,261-yard monster debuted for the 1987 Bob Hope Desert Classic, most TOUR players hoped to never have to walk the 151-sloped course again.
In his Insiders' Guide to Palm Springs, award-winning author Ken Van Vechten calls The Stadium Course, "a torture chamber of 20-foot-deep bunkers, grass pits that could swallow a circus of elephants, a craters-of-the-moon complexion, pushed up greens that fall away to oblivion, and enough water to float the Pacific Fleet."  Van Vechten recommends playing the course backwards– not literally, but looking at every hole from green to tee so that the best playing angles reveal themselves and you understand that much of the terror is more visual than actual.
The course opens with a stout 445-yard par four that reveals slivers of fairway laid down between bunkers and humps of brown rough.  It will teach you that missing the short grass is more than inconvenient– it sets up difficult approaches from a thick, grabby minimum-security sort of prison.  The real incarceration occurs in some of the bunkers, and the life-sentence of water hazards.
The first par-three comes at the fourth hole, called  not incidentally, "Sand Pit."  The green is hugged by a large waste bunker to the right and smaller, humpy bunkers to the left.  It's followed by "Double Trouble," a short, brutish double-dogleg par five with water left and, oh yeah, also on the right.  Next up comes number six, a frightening 255-yard par three to a peninsula green that seems almost as far off as the extinguishing of our sun.
The back nine is no more unrelenting, continuing to demand precision off the tee and then precision around the greens.  Even slightly mis-hit shots may end up in punishing thick grass or on fun-house side-hill lies on mounds and hummocks, or in one of what can seem like millions of bunkers.  For an added level of entertainment, consider the names of some these holes, which include "Black Hole," "Eternity," and possibly, "@!#!!".
The course finishes with a flurry of utter terror– number sixteen stretches 600 yards and features about 580 yards of bunkering.  Seventeen is the famous "Alcatraz"  with its island green.  I must confess to making one of the best bogies in golf history here to win my match with John Strawn.  After both hitting our tee shots in the water, I clubbed down and proceeded to hit my reload over the green, but it hit a rock in the pond, shot about eight miles into the air, and returned back to the bottom of the putting surface about thirty feet from the hole.  I jammed the putt in and watched all of the air leave my opponents body.
Despite the difficulty of The Stadium Course it is constantly demanding without ever really seeming unfair.  The shot requirements will bring out the best in many golfers who appreciate the high level of challenge and aren't so concerned with setting a new scoring record.  Again, much of the trouble is as visual as it is physical, and while these features may call you out like a bully, if you respond strongly you'll see some of Dye's bravado shrinking back into the scenery.  Good shots are generally amply rewarded, though even slightly errant shots may seem punished beyond the degree of the miss.  Stadium may be one of the best match play courses in existence, and provides more opportunities for heroics than a Mission Impossible film.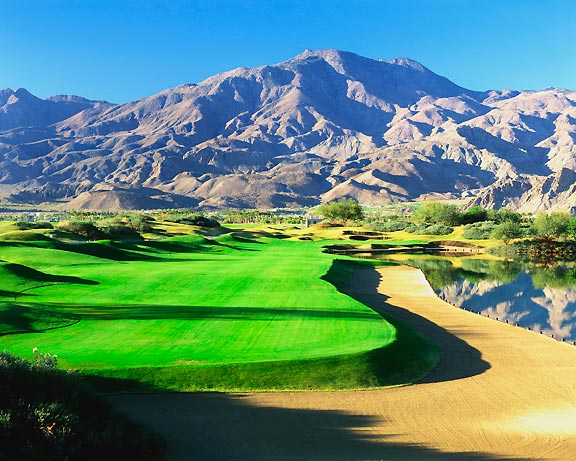 Let's also spend a moment considering a couple of La Quinta/PGA West's lesser-known tracks, such as the  Nicklaus Tournament Course.  While the meek may inherit the earth, they'll still do well to avoid this layout.  From the first hole, missed fairways or greens may result in fun-house sidehill lies, hysterically difficult pitches out of thick grass, or worse.  The landing areas and putting surfaces form carved platforms with steep sides and no sense of humor.
Number five is a fine example.  This 364-yard par four enigma features two fairways split by a smirking bunker; guess where you'll land with a long, dead-center drive?  At number eight, a 172-yard sortie over water, even the drop area is penal, still requiring a water crossing and negotiation of a bunker protecting the green.  The ninth, a 461-yard par four, might call for hitting driver/wedge/eight iron unless you execute perfectly.  And the 572-yard, round-busting fifteenth could not possibly be more arduous; even an immaculate lay-up leaves a nearly-impossible flop shot over water and sand to the green.  The course ramps up to 7,204 yards, but seek professional help (and I don't mean a golf pro) if you play from the tips.  It's rating should exclude minors due to violence and adult language.
As an antidote to La Quinta/PGA's more venomous layouts, try the 7,156-yard, eminently walkable Norman Course, which couldn't look more different from most Palm Springs venues.  Flat fairways blend into gravelly waste areas that cant back toward the carpet.  Many landing zones narrow toward the hole as drives lengthen.  The many pot bunkers are also canted.  The course actually lies 40 feet below sea level, lending it an insular feel made even cozier by the surrounding cappuccino-colored mountains.  The toughest hole on the Norman might be the 481-yard par-four sixth, where bunkers converge from both sides at around 250 yards.  The fairway widens again only to make room for three pot bunkers guarding the green, which like most here is smallish and fair.
As good as La Quinta's golf is, you'll feel lucky to finish your round and return to the fine hotel, which has drawn constellations of Hollywood stars since opening in the 1920s.  Although offering some thousand rooms, the property achieves intimacy by gathering casitas around small courtyards of cactus gardens and petite swimming pools.  And don't miss The Havana Club, described here in a previous post.